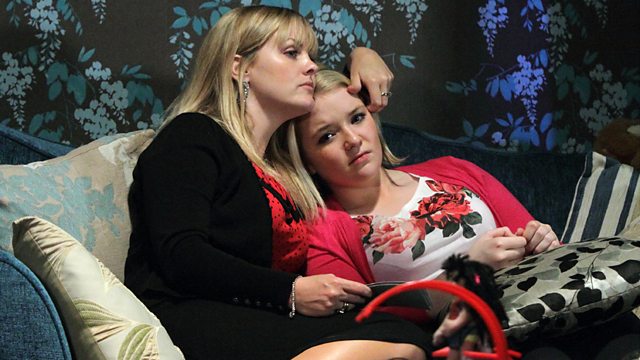 13/09/2012
Janine persuades a reluctant Kim to look after Scarlett. She sends expensive gifts to Michael: first a suit then a watch, with instructions to meet her at eight. By the time a tie arrives, Michael's fed up and gives it to Billy. Kat won't let Michael go upstairs to give Tommy a present, and Michael goes home three hours late. Janine is waiting with a suitcase, and she tells Michael it contains everything his heart desires - it's full of cash.
Kat calls her lover, furious. She rips the heads off the roses he sent. Kat's dismissive when Jean's outraged at how quickly the flowers have 'wilted'. Kat fears Jean knows about her affair when she advises Kat to go to 'him' if she wants to, but Jean is referring to Charlie. Alfie gently confronts Kat; dads don't send roses, and he needs to know if there's someone else. Kat eventually admits that there is.
Fat Boy tells Alice she can't move in. Derek gives new phones to Max and Jack. He's maudlin, telling his brothers he may be leaving soon. Alice agrees not to move out after Derek promises to behave and not to interfere in her personal life again.
Abi is depressed, and Max is moping. Tanya is worried when Max says things aren't working, but he claims it's just the business. Tanya looks at Abi's Costa Rica photos and talks to her about Jay. Abi decides she's like Tanya; it doesn't matter what Jay's done, she still loves him.
Lucy refuses Ian's request for the afternoon off, until Sharon confides that it's for a mental health assessment. Afterwards, Lucy asks how it went. Upset, Ian says they asked him lots of questions, and that he didn't know the answers but tried. Tearful, Lucy promises Ian he's going to get better, and she'll be there for him.
Last on
Credits
| Role | Contributor |
| --- | --- |
| Michael Moon | Steve John Shepherd |
| Janine Butcher | Charlie Brooks |
| Alfie Moon | Shane Richie |
| Kat Moon | Jessie Wallace |
| Ian Beale | Adam Woodyatt |
| Lucy Beale | Hetti Bywater |
| Max Branning | Jake Wood |
| Tanya Cross | Jo Joyner |
| Abi Branning | Lorna Fitzgerald |
| Billy Mitchell | Perry Fenwick |
| Kim Fox | Tameka Empson |
| Alice Branning | Jasmyn Banks |
| Derek Branning | Jamie Foreman |
| Arthur 'Fat Boy' Chubb | Ricky Norwood |
| Jack Branning | Scott Maslen |
| Sharon Rickman | Letitia Dean |
| Jean Slater | Gillian Wright |
| Executive Producer | Lorraine Newman |
| Director | Jennie Darnell |
| Writer | Jeff Povey |