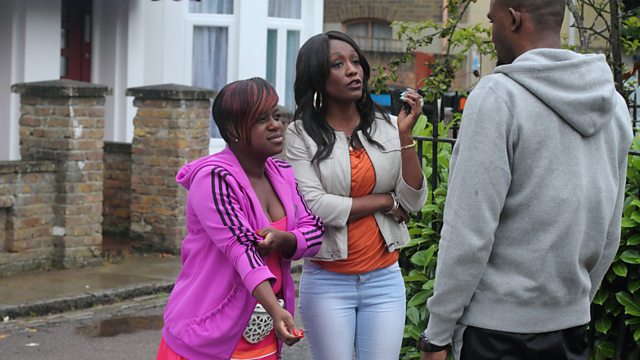 11/09/2012
Michael's been out in the early hours and is evasive when Janine asks about his plans for the day. Janine loads spyware on the R&R computer. After Billy tips her off, Janine heads to George Street and sees Michael and Lucy together. She accuses them of having an affair and is humiliated when Lucy reveals Michael's buying No.89b. Angry, Janine tells Ian she wants his loan repaid. Out of Ian's earshot, Lucy cattily informs Janine she'll knock it off the price of the flat, but will tell Michael since he's in charge of the money.
Kat wakes up at the flat. She rushes home, claiming she slept at the B&B. Kat destroys the 'I love you' bandage. She calls and admonishes her lover. Roses arrive for Kat with the message 'I know you love me too'. She claims to Alfie they're from Charlie. Kat finds the Branning brothers and Michael in the bar. They all smile and comment on the flowers.
Alice's worried when Derek stays out all night. She's fed up, she's always either angry or worried about him. Joey's thrilled when Fat Boy suggests Alice ask Derek to move out. However, neither Joey nor Derek are too pleased when Alice decides to move in with Fat Boy.
Kim and Ray go jogging, but Kim quickly tires. Ray's furious when he's the target of a police stop and search. Kim bolsters Ray, suggesting he set up a scheme to mentor kids, show Morgan and his friends what it is to be a man.
Tanya's annoyed with Max for staying out all night and not calling.
Sharon's intrigued when she finds a hung over Jack asleep on a bench in the Square. Later, helping her with the R&R computer, Jack claims if she comes to dinner he'll tell her everything.
Last on
Credits
| Role | Contributor |
| --- | --- |
| Michael Moon | Steve John Shepherd |
| Jack Branning | Scott Maslen |
| Max Branning | Jake Wood |
| Derek Branning | Jamie Foreman |
| Kat Moon | Jessie Wallace |
| Alfie Moon | Shane Richie |
| Janine Butcher | Charlie Brooks |
| Billy Mitchell | Perry Fenwick |
| Ian Beale | Adam Woodyatt |
| Lucy Beale | Hetti Bywater |
| Joey Branning | David Witts |
| Alice Branning | Jasmyn Banks |
| Arthur 'Fat Boy' Chubb | Ricky Norwood |
| Ray Dixon | Chucky Venn |
| Kim Fox | Tameka Empson |
| Denise Fox | Diane Parish |
| Mo Harris | Laila Morse |
| Sharon Rickman | Letitia Dean |
| Tanya Cross | Jo Joyner |
| Lauren Branning | Jacqueline Jossa |
| PC Arnold | Grant Burgin |
| Executive Producer | Lorraine Newman |
| Director | Jennie Darnell |
| Writer | Jeff Povey |