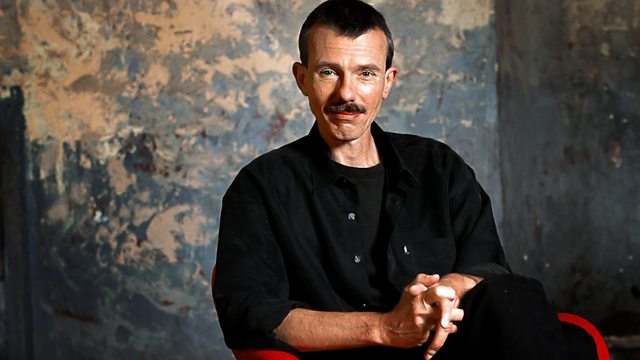 20/09/2012
Piano Season on the BBC
Jonathan Swain presents a piano recital by Peter Donohoe recorded earlier this year at the Queen Elizabeth Hall, London.
12:31 AM
Debussy, Claude [1862-1918]
Estampes for piano
Peter Donohoe (piano)
12:45 AM
Brahms, Johannes [1833-1897]
6 pieces (Op.118)
Peter Donohoe (piano)
1:09 AM
Liszt, Franz [1811-1886]
Annees de pelerinage - 1ere annee, Suisse S.160
Peter Donohoe (piano)
1:55 AM
Debussy, Claude [1862-1918]
L'isle joyeuse for piano
Peter Donohoe (piano)
2:01 AM
Gwilym Simcock (b.1981-)
I Love You (improvisation)
Gwilym Simcock (piano)
2:07 AM
Chopin, Frédéric (1810-1849)
Nocturne in C minor (Op.48 No.1)
Llyr Williams (piano)
2:15 AM
Szymanowski, Karol (1882-1937)
20 Mazurkas for piano (Op. 50) )No. 1 in E major; no 2; no. 13)
Ashley Wass (piano)
2:23 AM
Grunfeld, Alfred [1852-1924]
Soirees de Vienne for piano, Op.56
Benjamin Grosvenor (piano)
2:31 AM
Beethoven, Ludwig van (1770-1827)
Egmont Overture
Trondheim Symphony Orchestra, Eivind Aadland (conductor)
2:40 AM
Mozart, Wolfgang Amadeus (1756-1791)
Quintet for piano, oboe, clarinet, bassoon and horn (K.452) in E flat
Douglas Boyd (oboe), Hans Christian Bræin (clarinet), Kjell Erik Arnesen (french horn), Per Hannisal (bassoon), Andreas Staier (piano)
3:05 AM
Papandopulo, Boris (1906-1991)
Sinfonietta for string orchestra
Zagreb Philharmonic Orchestra (string section), Kazushi Ono (conductor)
3:33 AM
Tormis, Veljo (b. 1930)
Sügismaastikud
Estonian Radio Choir, Toomas Kapten (conductor)
3:42 AM
Veracini, Francesco (1690-1768)
Overture VI for 2 oboes, bassoon & strings
Michael Niesemann & Alison Gangler (oboes), Adrian Rovatkay (bassoon), Musica Antiqua Köln, Reinhard Goebel (conductor)
3:53 AM
Respighi, Ottorino (1879-1936)
Poema autunnale for violin & orchestra
Viktor Simcisko (violin), Slovak Radio Symphony Orchestra, Ondrej Lenard (conductor)
4:08 AM
Schumann, Robert (1810-1856)
Arabeske for piano (Op.18) in C major
Seung-Hee Kim (piano)
4:15 AM
Ciglic, Zvonimir (b. 1921)
Concertino for harp and orchestra
Mojka Zlobko (harp), Slovenian Radio & Television Symphony Orchestra, Anton Nanut (conductor)
4:31 AM
Caccini, Giulio (1551-1618)
Maria dolce Maria from Il Primo Libro delle Musiche a una e due voci (Florence 1618)
Tragicomedia, Stephen Stubbs (chitaronne/director)
4:34 AM
Scarlatti, Domenico (1685-1757)
Sonata in C major (KK.132)
Andreas Staier (harpsichord)
4:41 AM
Verdi, Giuseppe (1813-1901)
Overture - 'La forza del destino'
KBS Symphony Orchestra, Chi-Yong Chung (conductor)
4:49 AM
Clarke, Rebecca (1886-19790)
4 songs
Elizabeth Watts (soprano), Paul Turner (piano)
4:58 AM
Mozart, Wolfgang Amadeus (1756-1791)
Symphony No.17 (K.129) in G
The Amadeus Polish Radio Chamber Orchestra in Poznan; Agnieszka Duczmal (conductor)
5:16 AM
Elgar, Edward [1857-1934]
To her beneath whose steadfast star - for chorus
BBC Singers, Stephen Layton (conductor)
5:22 AM
Telemann, Georg Philipp (1681-1767)
Trio No.5 from Essercizii Musici, for Recorder, Violin, and continuo
Camerata Köln
5:33 AM
Strozzi, Barbara (1619-1677)
Begl'occhi, bel seno' Costumo de grandi for Soprano, 2 violins and continuo
Musica Fiorita, Daniela Dolci (harpsichord/director)
5:38 AM
Bartók, Béla (1881-1945)
Rhapsody No.1, for cello and piano
Miklós Perényi (cello), Lóránt Szücs (piano)
5:49 AM
Saint-Saëns, Camille (1835-1921)
Septet for trumpet, piano and strings in E flat major (Op.65)
Ole Edvard Antonsen (trumpet), Elise Baatnes and Karolina Radziej (violins), Lars Anders Tomter (viola), Hjalmer Kvam (cello), Marius Faltby (double bass), Enrico Pace (piano)
6:07 AM
Dvorák, Antonín (1841-1904)
Zlaty kolovrat - symphonic poem (Op.109)
BBC Scottish Symphony Orchestra, Ilan Volkov (conductor).
Last on