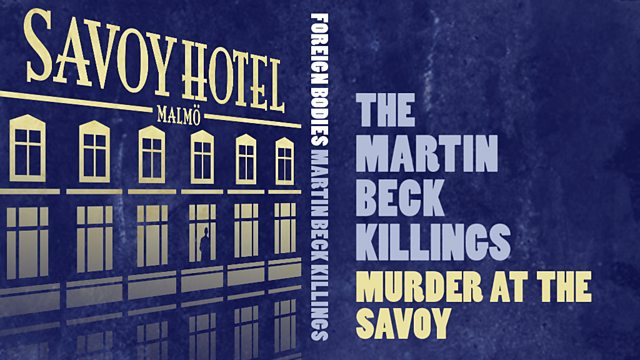 Murder at the Savoy
by Maj Sjöwall & Per Wahlöö
Translated by Amy and Ken Knoespel
Dramatised for radio by Jennifer Howarth.
Steven Mackintosh as Martin Beck and Neil Pearson as Lennart Kollberg return for a second series of the Swedish detective stories that inspired a generation of crime writers.
The Martin Beck books were written over ten years from 1965-75 by the Swedish husband and wife team of Maj Sjöwall & Per Wahlöö. They featured the dogged and complex figure of D.I. Martin Beck and his colleagues in the national Police Homicide Department in Stockholm, and were written to give a realistic, unsentimental portrait of Sweden at the time: a society suffering from stifling bureaucracy and the creeping corruption of a liberal society.
In Murder at the Savoy, Martin Beck and Lennart Kollberg are called to Malmö in Southern Sweden when an industrialist is shot whilst having dinner at the city's best hotel. There are people in high places who want the case cleared up quietly and quickly, but Beck refuses to give way to pressure.
Original Music composed by Elizabeth Purnell
Directed by Sara Davies.
Last on
Credits
| Role | Contributor |
| --- | --- |
| Narrator | Lesley Sharp |
| Narrator | Nicholas Gleaves |
| Martin Beck | Steven Mackintosh |
| Lennart Kollberg | Neil Pearson |
| Gunvald Larsson | Ralph Ineson |
| Per Mansson | Tom Mannion |
| Zachrisson | Joe Sims |
| Asa Torell | Clare Corbett |
| Malm | Nicholas Murchie |
| Edvarsson | Will Howard |
| Mats Linder | Paul Mundell |
| Charlotte Palmgren | Philippa Stanton |
| Bertil Svensson | Rick Warden |
| Sara Moberg | Joanna Brookes |
| Sister | Carolyn Pickles |
| Gun Kollberg | Sally Orrock |
| Helena Hansson | Hannah Wood |
| Broberg | Michael Shelford |
| Victor Palmgren | Robert Blythe |
| Writer | Maj Sjowall |
| Writer | Per Wahloo |
| Adaptor | Jennifer Howarth |