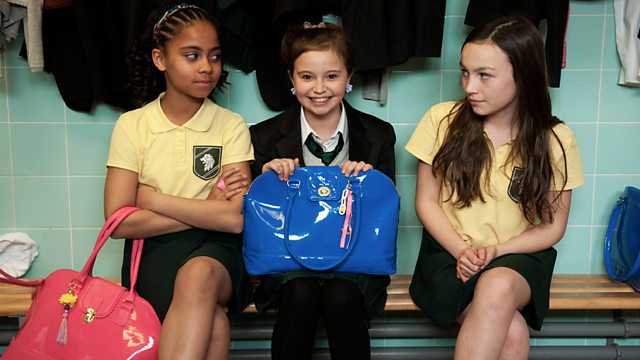 Drama series following children as they move from primary to secondary school.
Becky Tyler is a real tomboy - sporty, best mates with Gerome and a massive roller derby fan. But change is round the corner - an all-girls secondary school, where football and trousers are banned. Arriving on her first day with her stylish older sister Mel, Becky's a fish out of water. The school is full of girls with the latest accessory, a tiny bag with animal ears, which couldn't be more different from Becky's skate bag. Worse still, her friend Dol is wearing something completely alien to Becky - a bra.
The school basketball team provides a welcome distraction but Becky misses Gerome and is horrified to find he's going out with her nemesis, popular Kelly. Feeling abandoned, Becky throws her skate bag into the park pond, and manages to get hold of a tiny animal bag. However the next day she's horrified to find that the 'it' bag has changed already - now all the popular girls are carrying great big pink holdalls. At a school basketball match Becky loses her new bra, gets into an argument with Kelly and walks out.
Mel eventually finds Becky at the roller derby track, talking to her skate idol Ruby Rampage. The sisters have a heart-to-heart, Mel reassuring her sister that big school will get better, everyone has problems settling in. Becky starts to come into her own: even stylish Kelly gets into sport and Becky starts a roller derby trend in school as orange day-glo laces become the latest accessory!