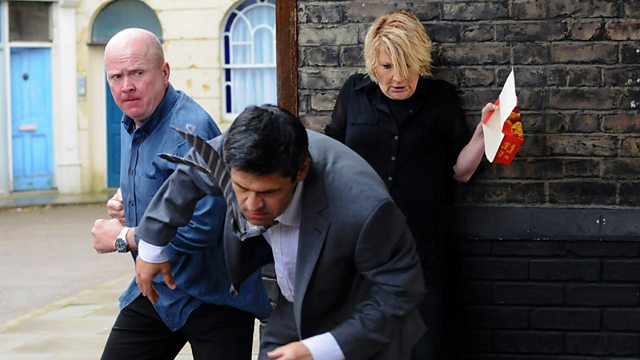 04/09/2012
Shirley's sleeping rough, drunk and covered in bites. Phil spots her drinking and passed out on the Square. Later, in the café, he buys Shirley food and brings her clean clothes from home. Shirley thinks Phil's just scared she's going to reveal his secret to the police. Later in the R&R, Phil sees a man, Pete, chatting Shirley up. Drunk, Shirley stumbles out with Pete; when she rejects his advances he becomes persistent. Shirley knees him in the groin and he grabs her roughly. Phil punches Pete, who stumbles off. Shirley still won't come home; she tells Phil that she isn't going to keep his dirty secret anymore. Frustrated, Phil makes a call: "I need you to do something for me…"
Kat's concerned; Alfie's washing the bug-ridden laundry and the incriminating bandage is in one of the laundry bags. Kat sneaks into the Vic to retrieve it but Alfie walks in. Kat's missed Alfie and tries to sneak him into their bedroom but Alfie puts his foot down: the house is infested. Kat is offended. Later, Alfie finds the bandage and puts a sign up in the Vic window saying "I Love You 2".
Masood persuades a reluctant Zainab to accompany Ian to the doctor's. Ian's ripped up his appointment card and is struggling to make sense of a simple stock order for Lucy. Zainab helps him and persuades him to attend his appointment. Ian later brings flowers to a delighted Zainab. Lucy comes home to find Ian watching cartoons with Bobby and Dennis; he's done the order. Lucy's pleased.
Sharon asks Jack to mind the club for her as Dennis is home from school, unwell. She hints she'll make it worth his while then, to Jack's disappointment, gives him a bottle of vodka as recompense.
Last on
Credits
| Role | Contributor |
| --- | --- |
| Phil Mitchell | Steve McFadden |
| Shirley Carter | Linda Henry |
| Kat Moon | Jessie Wallace |
| Alfie Moon | Shane Richie |
| Sharon Rickman | Letitia Dean |
| Jack Branning | Scott Maslen |
| Ian Beale | Ian Woodyatt |
| Lucy Beale | Hetti Bywater |
| Zainab Khan | Nina Wadia |
| Masood Ahmed | Nitin Ganatra |
| AJ Ahmed | Phaldut Sharma |
| Tanya Cross | Jo Joyner |
| Dennis Rickman | Harry Hickles |
| Bobby Beale | Alex Francis |
| Executive Producer | Lorraine Newman |
| Pete | Jason Riddington |
| Director | Ian White |
| Writer | Kirstie Swain |