Add music you love and enjoy it with
Performers: Andre Come, Peter Chapman and Gerard Goquen (bugles), Boston Pops Orchestra, Arthur Fiedler (conductor)

DG 477 6115

Performers: Russian National Orchestra, Mikhail Pletnev (conductor)

DG 453 486-2

9.13 [00'13"]: Sarah's Essential CD of the Week

John Dowland

My Lord Chamberlain His Galliard

Performers: Jakob Lindberg and Paul O'Dette (lutes)

BIS 267

Performers: Jakob Lindberg and Paul O'Dette (lutes)

BIS 267

9.18 [00'18"]:

Hector Berlioz

Royal Hunt and Storm (The Trojans)

Performers: Royal Philharmonic Orchestra, Thomas Beecham (conductor)

EMI 9 09932 2

9.31 [00'31"]: Artist of the Week - Steven Osborne

Performers: Steven Osborne (piano)

HYPERION CDA 30015

9.47 [00'47"]:

Performers: London Symphony Orchestra, John Barbirolli (conductor)

EMI CDC-7 47984-2

9.54 [00'54"]: Artist of the Week - Steven Osborne

Olivier Messiaen

Joie du sang des étoiles (Turangalila Symphony)

Performers: Steven Osborne (piano), Cynthia Millar (ondes martenot), Bergen Philharmonic Orchestra, Juanjo Mena (conductor)

HYPERION CDA 67816

10.13 [01'13"]:

Today's Brainteaser Answer

Who am I?

Performers: Details of the music related to today's brainteaser will appear on this page at 12pm. The answer will appear at the bottom of the page.

Performers: Emmanuel Pahud (flute, Potsdam Chamber Academy, Trevor Pinnock (conductor)

EMI 084220-2

Performers: Choir of New College Oxford, Edward Higginbottom (conductor)

PORTRAIT PCL 2102

10.30 [01'30"]: BARONESS JULIA NEUBERGER'S CHOICE

Performers: Jessye Norman (soprano), Leipzig Gewandhaus Orchestra, Kurt Masur (conductor)

PHILIPS 411 052-2

11am [02'00"]: Sarah's Essential Choice

Joseph Haydn

Symphony No. 102 in B flat

Performers: City of Birmingham Symphony Orchestra, Simon Rattle (conductor)

EMI 5 55509-2

Performers: Michael Collins (clarinet), Kathryn Stott (piano)

EMI 54419 T5-7

Performers: Northern Sinfonia, Richard Hickox (conductor)

CHANDOS CHAN 10725X T1-4
Today's Brainteaser Answer

Who am I? Frederick the Great of Prussia - one of the greatest princely patrons of music, and also a composer and flute player.
Read the Essential Classics blog
Essential Choices on BBC Playlister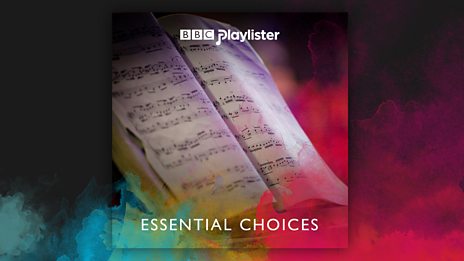 Explore the Essential Choices via BBC Playlister as chosen by Rob Cowan and Sarah Walker.