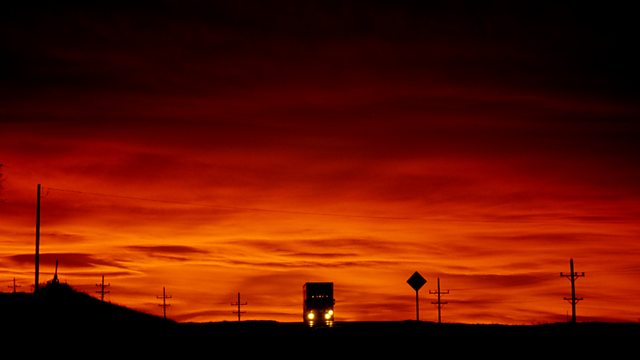 10/09/2012
Susan Sharpe presents a concert from Switzerland of Italian Baroque choral music by Sammartini and Bernasconi.
12:31 AM
Sammartini, Giovanni Battista (1700-1775)
Beatus vir (1765)
Solisti e Coro della Radiotelevisione Svizzera, I Barocchisti, Fiorenza de Donatis (violin), Diego Fasolis (conductor)
12:55 AM
Bernasconi, Andrea (1706-1784)
Miserere
Solisti e Coro della Radiotelevisione Svizzera, I Barocchisti, Fiorenza de Donatis (violin), Diego Fasolis (conductor)
1:42 AM
Busoni, Ferruccio (1866-1924)
Sonatina super Carmen (Sonatina no.6) for piano 'Kammerfantasie'
Valerie Tryon (piano)
1:51 AM
Grieg, Edvard (1843-1907)
Lyric suite - arr for orchestra from Lyric Pieces (Book 5) for piano (Op.54)
Bergen Philharmonic Orchestra, Ole Kristian Ruud (conductor)
2:09 AM
Czerny, Carl (1791-1857)
Prelude (Op.698 No.4) in G major
Rob Nederlof (organ)
2:13 AM
Pergolesi, Giovanni Battista (1710-1736)
Sonata in G major
Willem Poot (organ)
2:15 AM
Mozart, Wolfgang Amadeus (1756-91)
Quartet for flute and strings (K.285) in D major
Joanna G'Froerer (flute), Martin Beaver (violin), Pinchas Zukerman (viola), Amanda Forsyth (cello)
2:31 AM
Schumann, Robert (1810-1856)
Symphony No.2 in C major (Op.61)
Budapest Symphony Orchestra, Tamás Vásáry (conductor)
3:10 AM
Handel, Georg Frideric (1685-1759)
Künft'ger Zeiten eitler Kummer (HWV.202) - No.1 from Deutsche Arien
Hélène Plouffe (violin), Louise Pellerin (oboe), Dom André Laberge (organ - 1999 Karl Wilhelm at the abbey church Saint-Benoît-du-Lac)
3:15 AM
Mozart, Wolfgang Amadeus [1756-1791]
Concerto No.7 for 3 pianos and orchestra in F major (K.242)
Ian Parker, James Parker & Jon Kimura Parker (pianos), CBC Radio Orchestra, Mario Bernardi (conductor)
3:38 AM
Saint-Saëns, Camille (1835-1921)
Mon coeur s'ouvre à ta voix - from Samson et Dalila
Jouko Harjanne (trumpet), Norwegian Radio Orchestra, Ari Rasilainen (conductor)
3:44 AM
Chopin, Fryderyk [1810-1849]
Four Mazurkas
Ashley Wass (piano)
3:55 AM
Blow, John (1649-1708)
The Graces' Dance, Gavott and Sarabande for the Graces - from Venus and Adonis
The Consort of Musicke, Anthony Rooley (director)
4:02 AM
Dvorák, Antonín [1841-1904]
Overture to 'Othello', Op. 93
BBC Symphony Orchestra, Jirí Belohlávek (conductor)
4:17 AM
Ernesaks, Gustav (1908-1993)
Mu Isamaa On Minu Arm
Ühendkoor, Gustav Ernesaks (conductor)
4:21 AM
Rossini, Gioachino (1792-1868)
Overture - from Il Barbiere di Siviglia
Bergen Philharmonic Orchestra, Alun Francis (conductor)
4:31 AM
Mendelssohn, Felix (1809-1847)
Meeresstille und gluckliche Fahrt - overture (Op.27)
Orchestre National de France, Riccardo Muti (conductor)
4:44 AM
Duparc, Henri (1848-1933)
L'invitation au voyage - for voice and piano (1870)
Gerald Finley (baritone), Stephen Ralls (piano)
4:49 AM
Haydn, (Franz) Joseph [1732-1809]
Trio for keyboard and strings (H.15.30) in E flat major
Kungsbacka Piano Trio
5:07 AM
Fauré, Gabriel (1845-1924)
Elegie for cello and orchestra (Op.24)
Shauna Rolston (cello), Edmonton Symphony Orchestra, Uri Mayer (conductor)
5:14 AM
Poulenc, Francis [1899-1963]
Allegro con fuoco - from Sonata for violin and piano
Fanny Clamagirand (violin), Nicolas Bringuier (piano)
5:22 AM
Mozart, Wolfgang Amadeus [1756-1791]
Symphony No.38 (K.504) in D major "Prague"
Freiburger Barockorchester, René Jacobs (conductor)
5:52 AM
Buxtehude, Dietrich [1637-1707]
Frohlocket mit Handen, BuxWV 29
Marieke Steenhoek & Miriam Meyer (sopranos), Bogna Bartosz (contralto), Marco van de Klundert (tenor), Klaus Mertens (bass), Amsterdam Baroque Orchestra & Chorus, Ton Koopman (conductor)
6:01 AM
Bach, Johann Sebastian [1685-1750]
Prelude and fugue for organ (BWV.561) in A minor
Norbert Bartelsman (1738 Matthijs van Deventer organ of St Luciakerk, Ravenstein, Netherland)
6:10 AM
Liszt, Franz (1811-1886)
Csardas macabre
Jenö Jandó (piano)
6:18 AM
Naumann, Johann Gottlieb (1741-1801)
Symphonie à grand orchestre de l'opera Cora
Concerto Köln.
Last on