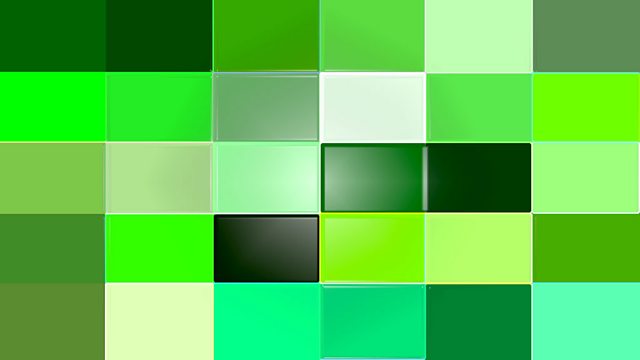 Green
Has any colour attracted a wider range of associations than green? This Words and Music programme explores its resonance - from emeralds to vegetables and frogs to leprechauns, the greenhorn and the green-ey'd monster, Irish republicanism and international environmentalism - in poetry and prose from Chaucer and Shakespeare to Wilfred Owen, Dylan Thomas and PG Wodehouse; and music from Schubert to Maxwell Davies.
Readings: Niamh McGrady and Sean Barrett.
First broadcast 09/09/2012.
Last on
Producer's Note
It wasn't till I was most of the way through making this programme that I realised something about the colour green.  I already knew that despite its apparently very positive associations with nature, with spring, youth and growth, it had a mysterious, enigmatic, *super*natural side too.  But the more reading and listening I did, the more worms I found in the apple: practically every affirmative connotation also held the seeds of its own destruction.  Even green traffic lights are no use without red ones.  Or maybe that's just my perspective – after all, as the Wizard of Oz so profoundly points out, 'when you wear green spectacles, why of course everything you see looks green to you'.
We're invited into the green glen by Niamh Grady with one of the loveliest poems by the man who loved and understood the green ways of the English countryside best, John Clare.  George Butterworth called his orchestral piece 'The Banks of Green Willow' an 'idyll' – but the passion of its climax reminds us that the two folksongs we hear in it ('Green Bushes' as well as 'The Banks of Green Willow' itself) encompass not just love, but loss, betrayal, death in childbirth, even infanticide.  Even in the company of Sean Barrett and his merry men, our image of dallying in the greenwood may be as idealised and nostalgic as John Major's – or the Kinks' – Village Green. 
PG Wodehouse guys golfers, his heroine Barbara Medway cleverly exploiting their sexism to get the rub of the green in her love match.  Lovely Joan turned the tables on her would-be seducer – 'she's robbed him of his horse and ring, and left him to rage in the meadows green'; her tune features alongside the (very likely unwarranted) aspersions on the virtue of 'my lady Greensleeves' in Vaughan Williams's 'Fantasia on Greensleeves'.  The programme features two pieces of music each by both VW and Schubert: in each case, the first expressing the light of green, the second the dark.
I've also included two poems that I find haunting despite not fully understanding them.  Wallace Stevens's 'The Candle a Saint' is one; the other is 'The Little Green Girl' by Spanish poet Juan Ramón Jiménez – who was apparently fixated on the colour green; I'd love to hear from anyone who knows why!
Schubert and Dylan Thomas sing the miraculous joy of green youth.  (I've always loved Thomas's 'Fern Hill', but I don't feel his own reading caught its essence; fortunately Niamh McGrady wanted to do it very differently.)  Green youth doomed to inevitable loss, like the 'verdi prati', the 'green fields', of Alcina's paradise island.
Mr Verdant Green, a gullible greenhorn of nineteenth-century Oxford undergraduacy, pairs up with a luxuriant orchestral piece whose composer Michael Torke originally called it 'Verdant Music', then purely 'Green': he says that 'suggests a quality that is simple or unseasoned'; yet to me the music sounds a more ominous note.   
And from here the programme begins to take a more sinister turn.  Shakespeare's Othello succumbs to the green-ey'd monster, jealousy – though when Joe Green (the Italian Giuseppe Verdi) made it into an opera, his lyricist made 'gelosia' curiously colourless.  The devil himself wears green – in the shape of the cheery chap who greets Chaucer's summoner with a friendly 'thou' (rather than the more formal 'you' the unsuspicious summoner employs in his replies).  Why green?  The theory goes that Chaucer's devil is a hunter, with bow and arrows – and huntsmen wear green.  As Schubert's miller lad finds to his cost: he's besotted with the miller's beautiful daughter, whose love for the colour green follows her feelings for the handsome huntsman who wears it. 
Dan Pagis's eerie emerald poem – chillingly translated from the Hebrew by Stephen Mitchell, chillingly read by Sean Barrett – and Peter Schickele and Joan Baez's eldritch take one e cummings draw us deep into the supernatural.  The gorgeous woman in green who tempts Grieg and Ibsen's Peer Gynt is a troll princess; and not even a legion of Irishwomen can turn the tables on the tricksy little men in green jackets.  The Green Knight of Arthurian legend, in Simon Armitage's brilliant modern English rendering and Harrison Birtwistle's terrifying operatic music, is no jolly green giant: Gawain gives him the chop, but he doesn't lose his head, and announces his intention to back with a vengeance next year.  And for all the comforting delights of Yellow Brick Road, courageous Cowardly Lion and empathetic Tin-Man-without-a-heart, the Wizard of Oz conceals a decidedly un-magical political message behind the spectacles of his Emerald City.
Politics comes to the fore as day turns to night with Wallace Stevens, via Mario Castelnuovo-Tedesco's evocation of 'Il raggio verde', the fugitive last 'green ray' of sunset. It was already hard enough to fathom the meaning of William Blake's Christo-mystical poem 'Jerusalem' before it accrued ever more complex layers of cultural associations through Parry's tune – commissioned by strident supporters of the First World War but rapidly adopted (to Parry's delight) by Suffragettes – then Elgar's huge orchestration and the flag-waving Last Night of Proms.  The green gas of Wilfred Owen's searing anti-nationalistic indictment would have been all too familiar to Vaughan Williams, whose experiences as a WW1 ambulance driver on the blackened fields of Flanders underpin his version of Pastoral.  Green remains a potent political symbol in Ireland; and has recently become one in Iran, when the 2009 presidential candidate Mir Hossein Mousavi adopted it as his campaign colour (probably at least partly because of its importance in Shia Islam): in the wake of his controversial defeat, the revered Persian traditional musician Mohammad Reza Shajarian and his colleague Majid Derakhshani released their impassioned protest song 'Language of Fire' free of charge 'as a gift to the struggles of Iranian people': 'Lay down your gun… The gun speaks the language of fire and iron, but I have nothing but the language of the heart.'
Tom Jones adds an ironic twist to Richard Llewellyn's yearning vision of a Welsh mining childhood, as we turn to the 'other' Green movement.  The Lord-of-the-Flies-for-grown-ups fable of 'The Death of Grass' by Samuel Youd (writing as John Christopher) grew from an environmental insight as prescient as it is remarkable for its early date (1956).  Just over two decades later, the threat of open-cast uranium mining in Orkney drew a defiant twofold creative response from composer Peter Maxwell Davies (who'd made his home there): the enormous, intense 'Black Pentecost' for orchestra and solo singers with words from Greenvoe, the first novel by his friend George Mackay Brown, was counterpointed by the subversive cabaret 'The Yellow Cake Review' ('yellow cake' being uranium ore) – which included perhaps the most beautiful piece he ever wrote, a lament for the town of Stromness.
To end, three enigmatic, epigrammatic green views from the Far East, and a final word from the Frog-Prince who really gets under the skin of greenness.
Producer: David Gallagher