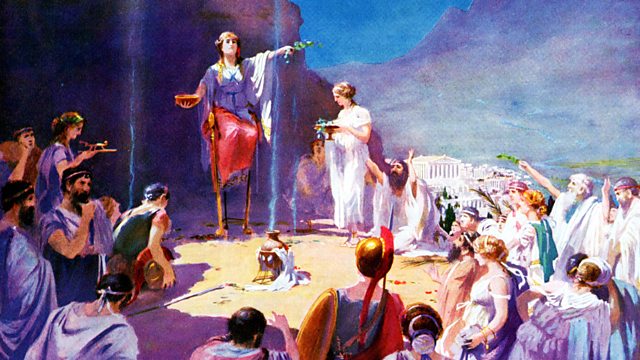 Juliet Gardiner continues her look back into the History of the Future with the apocalyptic visions of Divine Judgement in the Book of Revelation.
There is some dispute about its authorship but it is generally believed that the Revelations of Jesus Christ were communicated to a mystic, John, while in exile on the island of Patmos off the coast of Turkey. John wrote them down around AD 95 and some interpret the Book of Revelation as unveiling events that will take place in the future, when Satan will be cast out and the Second Coming will bring about paradise on earth, others see it as an allegory of the struggle between good and evil.
Juliet views the Douse Manuscript, a dazzling 15th century illuminated Book of Revelation from a period when there was a flowering of interest in this vision of future, with its images of beasts, fires and plagues. Why did the Book's predictions become so pertinent at this particular time? Was this connected to anxieties and political aspirations of the Crusades? Juliet speaks to Professor of Early Modern ideas, Justin Champion.
Produced by Victoria Shepherd
A Juniper Production for BBC Radio 4.
Last on