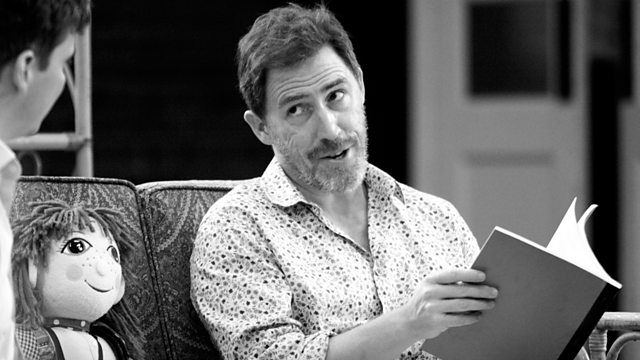 Rob Brydon, Warren Brown, Jonathan Meades, James Wong, Beth Orton, and Hurray for the Riff Raff
Clive Anderson is joined by Rob Brydon, Nikki Bedi, Warren Brown, Jonathan Meades and James Wong for an eclectic mix of conversation and comedy. With music from Beth Orton and Hurray for the Riff Raff.
Rob Brydon make his West End acting debut in Alan Ayckbourn's 'A Chorus of Disapproval', playing Dafydd, the ferociously zealous director of an amateur production of 'A Beggar's Opera'. 'A Chorus of Disapproval' is at Harold Pinter Theatre, London from Monday 17th September until Saturday 5th January 2013.
Clive samples the good life with self-confessed botany geek James Wong. After cultivating herbal remedies at home for his series 'Grow Your Own Drugs', his new book 'James Wong's Homegrown Revolution' instructs urban foodies on how to grow their own incredible edibles.
Guest interviewer Nikki Bedi squares up to former professional Thai boxer turned actor Warren Brown. He's now packing a punch as PC John Paul Rocksavage, who's life as a Liverpool policeman is turned upside down when his best friend is murdered. Episode two of 'Good Cop' is repeated on BBC One on Monday 10 Sep 2012 at 03.15 and Episode three is on BBC One on Thursday 13th September at 21.00.
Jonathan Meades new book 'Museum Without Walls' is born of his preoccupation with places, their composition, their power over us and the ideas they inspire. With his trademark wit and narrative agility, Jonathan's lectures, essays and scripts dissolve the barriers between high and low culture and good and bad taste.
With music from New Orleans band Hurray For The Riff Raff, who perform 'Little Black Star' from their album 'Look Out Mama', and folktronica songbird Beth Orton performs 'Magpie' from her new album 'Sugaring Season'.
Producer: Sukey Firth.
Last on