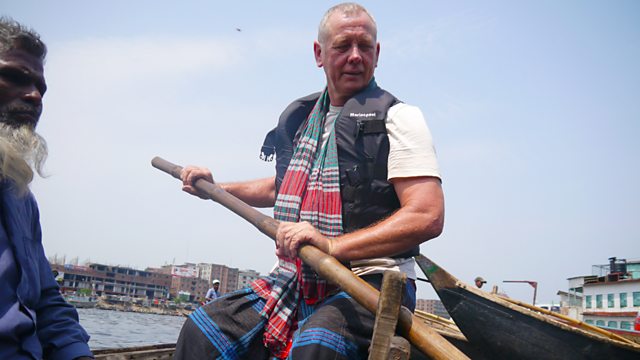 57-year-old Colin Window, the bridge officer of the Woolwich Ferry, travels to Dhaka, Bangladesh to train and work as a ferryman on the Buriganga River.
Hosted by 70-year-old Muhammed Loteef in one of the city's slums, Colin is introduced to his new vessel, a small wooden rowboat known as a Sampan. In temperatures of up to 40 degrees, Sampan operators row passengers and goods across the quarter mile stretch of river every days, dodging the huge barges and passenger ships that dominate the Buriganga. As Mr Loteef shows Colin how to master the sampan, he meets the other people who live and work on the river - and who have seen it transformed by sewage, rubbish and industrial waste. Once the lifeblood of a traditional fishing community, the Buriganga is now officially a dead river.
However the changes to the Buriganga are just a glimpse of the transformations disrupting life in Bangladesh. Every day some 2000 people a day leave their villages and travel to Dhaka, desperate for work as traditional professions such as farming are threatened by climate change. Yet even in Dhaka, over a quarter of a million children live rough on the streets of the city.
After ten days of training Colin faces his final challenge: to operate the Sampan alone during the rush hour, taking passengers and dodging the huge ships.
Last on
Credits
| Role | Contributor |
| --- | --- |
| Director | Simon Muriel |
| Director | Simon Muriel |
| Producer | Simon Muriel |
| Producer | Simon Muriel |
| Executive Producer | Sam Bagnall |
| Executive Producer | Sam Bagnall |