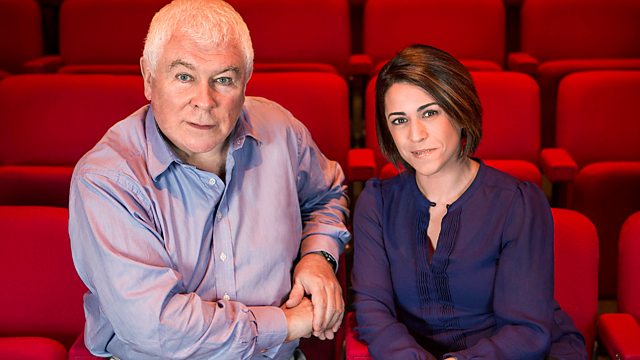 British Youth Opera, Fish Music, John Butt
Sean Rafferty presents, with live music and guests from the arts world including members of British Youth Opera celebrating its 25th anniversary with a production of Smetana's The Bartered Bride, musicians performing an extract from Fish Music, and the Dunedin Consort's John Butt.
Plus, our week-long celebration of the Grimm Fairy Tales, first published 200 years ago, continues. Leading writers including Sir Terry Pratchett, Philip Pullman and Michael Morpurgo, discuss the Grimm Fairy Tales with presenter Suzy Klein.
Philip Pullman celebrates the 200th anniversary of the Grimm Fairy Tales with a new edition of the stories, published later this month. In a special preview for In Tune, he reads his version of 'The Three Snake Leaves'.
Former Children's Laureate, and author of War Horse, Michael Morpurgo re-imagined Hansel and Gretel as a dark modern tale for children, and has often returned to the Tales for inspiration. His version of the fairy tale 'Beauty and the Beast' will appear this autumn.
Afro-Guyanese playwright and poet John Agard's anthology Goldilocks on CCTV transformed the romantic German heroines of the Grimm Tales into sassy adventuresses and troublemakers in a contemporary, multi-cultural society.
Sir Terry Pratchett has often returned to the Grimm Tales for inspiration. Parodies of beloved characters, from Cinderella to Little Red Riding Hood, appear in his Discworld novels, treated with his own irreverent, fantastical humour.
In interview with Suzy Klein, the writers will explore the legacy of the Grimm stories, and read extracts from their own re-imaginings of the Fairy Tales.
Main headlines are at 5pm and 6pm.
In.Tune@bbc.co.uk
@BBCInTune.
Last on