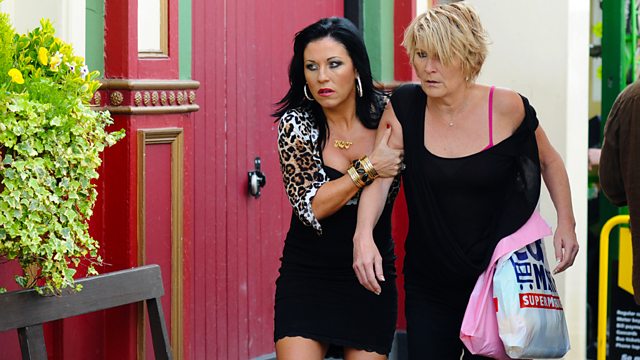 27/08/2012
Abi's back in Walford and comes home to an empty house. She goes round to Phil's in search of Jay. Patrick gives Jay money, tells him to buy some flowers in memory of his Dad. Jay takes flowers to the War Memorial and tells his dad that he misses him. Fat Boy, Whitney, Lucy, Poppy and Alice go over and offer him an olive branch, but Whitney insensitively probes for the details of Heather's death. Jay hears Abi is back and sees her in the square crying: Max and Tanya have told her everything. Jay goes to the Brannings' but, distraught, Abi slams the door in his face.
Sharon reminds Dennis that it is their special day, 28th August tomorrow. Michael tells Sharon that he knows that Dennis didn't die in a helicopter accident, that he was murdered outside the Vic; he asks her how she could stomach coming back to Walford. Sharon goes to Phil's, who is struggling in the aftermath of Ben's confession. He tells her that he can't stay in Walford, and asks her why she came back; Sharon replies that Walford is home to her.
Syed reveals that he has taken his money out of the stall and reinvested it in a new venture: cleaning products. AJ turns up and announces that he and his wife are getting a divorce and that he needs a place to stay. Zainab insists it can only be for a short while.
Kat bumps into a drunken Shirley in Bridge Street. Seeing her desperation, Kat helps her up and takes her to the Vic. To help her onto the straight and narrow, Alfie offers her a job in the Vic. Kat, guiltily, asks Alfie why it is that he always has to be so lovely?
Last on
Credits
| Role | Contributor |
| --- | --- |
| Abbi Branning | Lorna Fitzgerald |
| Jay Mitchell | Jamie Borthwick |
| Max Branning | Jake Wood |
| Tanya Cross | Jo Joyner |
| Phil Mitchell | Steve McFadden |
| Shirley Carter | Linda Henry |
| Alfie Moon | Shane Richie |
| Kat Moon | Jessie Wallace |
| Roxy Mitchell | Rita Simons |
| Lola Pearse | Danielle Harold |
| Lauren Branning | Jacqueline Jossa |
| Arthur 'Fat Boy' Chubb | Ricky Norwood |
| Whitney Dean | Shona McGarty |
| Lucy Beale | Hetti Bywater |
| Joey Branning | David Witts |
| Alice Branning | Jasmyn Banks |
| Poppy Meadow | Rachel Bright |
| Sharon Rickman | Letitia Dean |
| Dennis Rickman | Harry Hickles |
| Patrick Trueman | Rudolph Walker |
| Denise Fox | Diane Parish |
| Zainab Khan | Nina Wadia |
| Masood Ahmed | Nitin Ganatra |
| AJ Ahmed | Phaldut Sharma |
| Michael Moon | Steve John Shepherd |
| Executive Producer | Lorraine Newman |
| Director | Lance Kneeshaw |
| Writer | Sally Abbott |