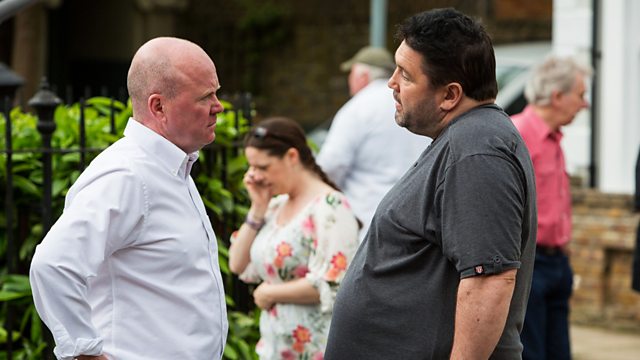 23/08/2012
After an argument with Phil, Roxy moves out of the Mitchells'. Outside, Andrew taunts Phil – it's not very nice when everyone's staring at you, is it? Collecting her things, Shirley rejects Phil's pleas for her to come home. Phil ignores Sharon's hints that she and Dennis could move in. Later, in the Vic, after once again attempting to talk Shirley round, Phil joins Sharon. The pub falls silent when Patrick and Jay arrive. Andrew launches himself at Jay who falls and cracks his head. Phil steps in, telling Andrew to hit him instead. Andrew goes, leaving Phil and Jay staring at one another.
Janine returns to work, giving Scarlett to Billy. She's frustrated to discover she's not needed; Michael's got the accounts under control and Phil's asked Sharon to run R&R.
Joey mocks Ian and reveals what Derek did to Lucy while he was away. Joey persuades Lucy to let Ian cover at the quiet cafe. Ian's frustrated that he can't immediately recall the third 'p' of marketing, but when he does he launches a meal deal and the cafe's soon buzzing. However, when Phil commands Ian to arrange a visit with Ben, Ian retreats home unable to cope. Lucy's concerned about him.
Lauren throws a lunchtime party and starts a game of spin the bottle to help Alice get together with Anthony. Jealous, Lucy texts a photo to Tyler of Joey and Whitney kissing. Alice gets her chance to kiss Anthony; afterwards Lauren blurts out how much Alice fancies him and Alice's mortified. Soon, Lauren finds herself alone with her bottle of vodka. Outside, Joey mollifies Lucy, Tyler confronts Whitney and Alice is giddy after her kiss.
Denise isn't thrilled that Patrick's allowed Jay to stay in the B&B and insists if Shirley needs a place to stay she comes first.
Last on
Credits
| Role | Contributor |
| --- | --- |
| Phil Mitchell | Steve McFadden |
| Jay Mitchell | Jamie Borthwick |
| Patrick Trueman | Rudolph Walker |
| Andrew Cotton | Ricky Grover |
| Shirley Carter | Linda Henry |
| Sharon Rickman | Letitia Dean |
| Roxy Mitchell | Rita Simons |
| Billy Mitchell | Perry Fenwick |
| Janine Butcher | Charlie Brooks |
| Michael Moon | Steve John Shepherd |
| Ian Beale | Adam Woodyatt |
| Lucy Beale | Hetti Bywater |
| Joey Branning | David Witts |
| Lauren Branning | Jacqueline Jossa |
| Alice Branning | Jasmyn Banks |
| Arthur 'Fat Boy' Chubb | Ricky Norwood |
| Poppy Meadow | Rachel Bright |
| Whitney Dean | Shona McGarty |
| Tyler Moon | Tony Discipline |
| Denise Fox | Diane Parish |
| Executive Producer | Lorraine Newman |
| Director | John Greening |
| Writer | Richard Lazarus |