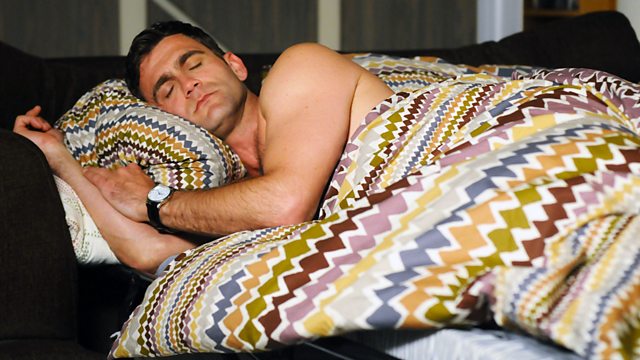 17/08/2012
DCI Marsden doubts Ben's claim that he acted alone; killing Heather then feigning a burglary and changing clothes. Phil sticks to his original statement, panicking when DS Crisp concludes he can't account for Ben's whereabouts at the time of the murder. At the Mitchells', the police can't find the frame. Crisp arrives to talk to Shirley. Appalled when he says the police might let Ben go, Shirley nods to the washing machine and Crisp finds the frame inside. Interviewed by Marsden, Jay sticks to his original story. Ben's dismayed when Crisp reveals that even with the frame he's an unreliable witness and needs someone to back him up. Crisp turns a blind eye to Ben sending a note to Jay. 'It's okay. Tell them. I'll love you forever. Ben'. Marsden gives Jay an ultimatum, do what Ben wants or be jointly charged with murder. The next morning Phil arrives home, desperate for news of the boys. Shirley's disgusted that he tried to make her protect her best friend's killer. Ben's charged with murder. Crisp tells him Jay's been charged with perverting the course of justice and bailed. Relieved Jay backed him up, Ben's driven away to court.
At the Vic, Jack sits with Sharon and Dennis. Sharon and Tanya make barbed comments about one other. Dennis drops his drink and Jack lends him his jacket. Getting defensive, Sharon decides it's time to go. Jack persuades her to stay at his flat. Once Dennis' asleep, they have a drink. Sharon kisses Jack and he responds. When Jack wakes up the next morning, Sharon and Dennis have gone.
Ian's looks around the Beales' then eats soup with his fingers. The next morning, Lucy's laid out a chip shop uniform for him. The solicitor arrives and Ian signs the paperwork putting everything into Lucy's name.
Last on
Credits
| Role | Contributor |
| --- | --- |
| Ben Mitchell | Joshua Pascoe |
| Phil Mitchell | Steve McFadden |
| Jay Mitchell | Jamie Borthwick |
| Shirley Carter | Linda Henry |
| Billy Mitchell | Perry Fenwick |
| Roxy Mitchell | Rita Simons |
| Sharon Rickman | Letitia Dean |
| Dennis Rickman | Harry Hickles |
| Jack Branning | Scott Maslen |
| Max Branning | Jake Wood |
| Tanya Cross | Jo Joyner |
| Ian Beale | Adam Woodyatt |
| Lucy Beale | Hetti Bywater |
| DS Crisp | Rufus Wright |
| Executive Producer | Lorraine Newman |
| Director | Karl Neilson |
| Writer | Jesse O'Mahoney |
| Ritchie Scott | Sian Webber |
| Mike Sommers | David Warwick |