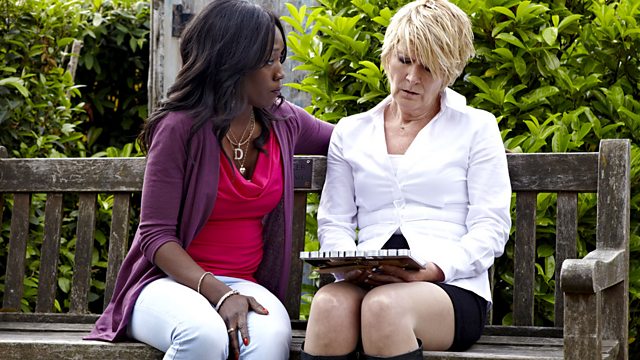 14/08/2012
Shirley sobs that the photo frame was used to kill Heather. Denise wants to turn the frame over to the police, but Shirley's determined to investigate personally. On learning from Kim the frame came from the charity shop, Shirley interrogates Sasha, then Cora, who recalls the frame was amongst Jean's donation. To Shirley's bewilderment, Jean recollects the frame was amidst the bags Phil gave her. Shirley's shocked, but remains adamant it was in Heather's flat before she was killed. Denise warns Shirley against doing anything stupid. Shirley listens to a voicemail from Phil, who's eager to be married immediately. Ben comes home with an engagement cake, dumbfounded to see the photo frame. Shirley rants at an increasingly terrified Ben before reaching the conclusion that Phil killed Heather.
Phil and Sharon set off in hot pursuit of John's car. Sharon panics when there's no sign of them at John's house. On discovering Nina packing Dennis' belongings, Phil forces her to call John and arrange to meet. John drives off again on seeing them but Dennis bolts from the car at some traffic lights. He narrowly avoids being hit by a lorry and races into Sharon's arms, safe. Phil punches a furious John and brings Sharon and Dennis back to the Square.
With Abi coming home soon, Jay's torn between Lola and Abi. Ben and Jay soothe a crotchety Lexi by rapping Dizzee Rascal. Lola's sadly resigned that Jay will go back to Abi. Ben soothes he's not going anywhere.
After finding Ian huddled on his own doorstep, Max pleads his case to Lucy who remains unmoved. Max softens the blow by telling Ian that Lucy was asking after him. Buoyed, Ian thanks Lucy but she slams the door - she wishes Ian was dead.
Last on
Credits
| Role | Contributor |
| --- | --- |
| Ben Mitchell | Joshua Pascoe |
| Shirley Carter | Linda Henry |
| Phil Mitchell | Steve McFadden |
| Sharon Rickman | Letitia Dean |
| Dennis Rickman | Harry Hickles |
| Jay Mitchell | Jamie Borthwick |
| Lola Pearce | Danielle Harold |
| Denise Fox | Diane Parish |
| Cora Cross | Ann Mitchell |
| Patrick Trueman | Rudolph Walker |
| Ian Beale | Adam Woodyatt |
| Max Branning | Jake Wood |
| Lucy Beale | Hetti Bywater |
| Joey Branning | David Witts |
| Kim Fox | Tameka Empson |
| Jean Slater | Gillian Wright |
| Nina Hewland | Juliet Cowan |
| Executive Producer | Lorraine Newman |
| Director | Nic Phillips |
| Writer | Daisy Coulam |