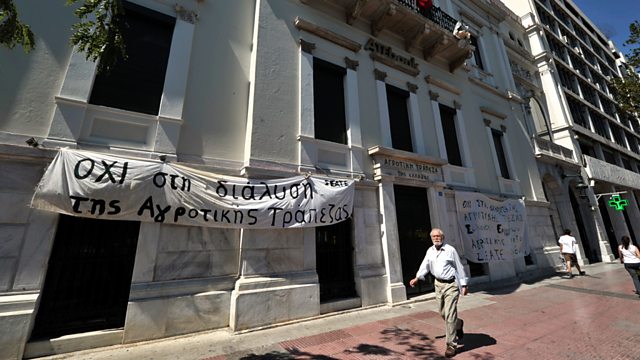 22/08/2012
Morning news and current affairs presented by James Naughtie and Justin Webb. Including:
0724
It is the annual weigh-in day at London Zoo when all the animals must line up. Adrian Walls, head bird keeper at the zoo, describes the process.
0810
The Greek PM Antonis Samaras told the German paper Bild, "all that we want is a little breathing space". Mark Lowen reports from Athens on what Greek people are going through as the continent debates their fate. Constantine Michalos, president of the Athens Chamber of Commerce, and Dr Guntram Wolff, a former official at the Bundesbank, debate Greece's future.
0821
The first BBC public television service was established 80 years ago today using the system developed by John Logie Baird. Mike Ryan, the founder of Fusion Futures, and Dawn Airey, former chief executive of Channel Five discuss how the next 80 years will shape the future of television.
0845
Are the Paralympics and Olympics uniting the UK as a country as athletes from each nation are cheered and supported? Trevor Ringland, Northern Ireland Conservative party spokesman for sport, explains why he believes Team UK would be a more appropriate name than Team GB.
0850
The court case involving the self described mastermind of the 9/11 attacks Khalid Sheik Mohammed and four other men is due to restart today at Guantanamo Bay. David Rivkin, a lawyer and prominent conservative commentator on legal issues in the United States, gives his analysis ahead of the trial.
Last on