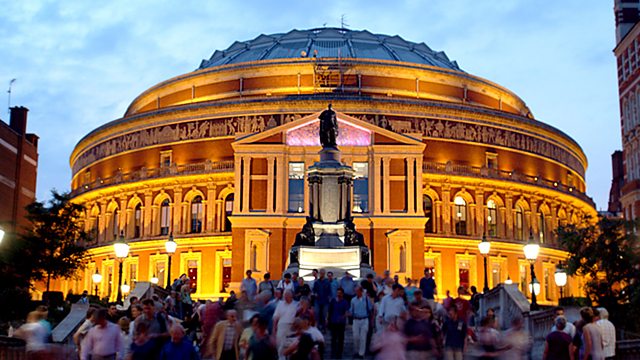 Live from the Royal Albert Hall, London
Presented by Catherine Bott
1612 Italian Vespers: Robert Hollingworth conducts his ensemble I Fagiolini in Italian music from 400 years ago - in up to 28 different parts and perfect for the wide open spaces of the Royal Albert Hall.
Monteverdi's Vespers of 1610 is a Proms favourite, but Robert Hollingworth, conductor of I Fagiolini, reckons this is something even better: 'I adore Monteverdi's Vespers, but Lodovico Viadana's collection is even more forward-looking in its exchanges between inventive, expressive solos and choir. Viadana encouraged performers to double the choirs in large spaces, so we'll be doing that in the Royal Albert Hall with singers, cornett, sackbuts, strings and dulcians' - a kind of early bassoon.
Alongside the Viadana, there is one piece by Monteverdi too - Salve Regina - and new reconstructions of two enormous works by Giovanni Gabrieli, for as many as 28 different parts.
Like the Handel Water Music and Royal Fireworks Music Prom earlier in the season, it should be a great Baroque experience in the Royal Albert Hall - and a tremendous noise.
Viadana: Salmi a quattro chori (1612) - Deus in adiutorium; Dixit Dominus
Bassano: Divisions on Palestrina Introduxit me Rex
Viadana: Salmi a quattro chori (1612) - Laetatus sum
Viadana: O dulcissima Maria
Viadana: Salmi a quattro chori (1612) - Lauda Ierusalem
Grandi: Plorabo die ac nocte
G.Gabrieli (reconstr. Keyte): Magnificat a 20/28 con il 'sicut locutus' (London premiere)
Monteverdi: Salve Regina
G.Gabrieli (reconstr. Keyte): In ecclesiis (world premiere)
I Fagiolini
Robert Hollingworth (conductor)
This Prom will be repeated on Wednesday 5th September at 2pm.
Last on