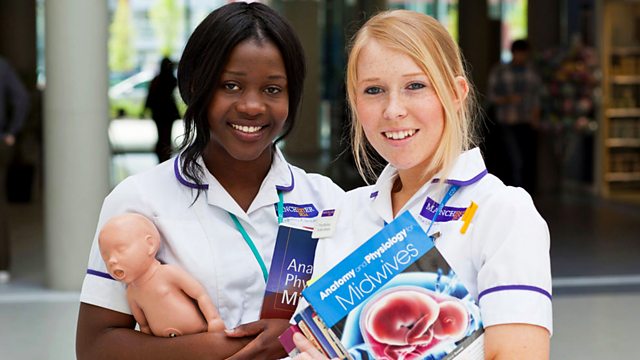 Make Me a Midwife follows three trainees at St Mary's Hospital, Manchester, as they embark on the daunting task of learning to become a midwife.
The three-year training is tough and before the students qualify, they have to clock up 40 births under supervision. Then suddenly they are on their own with no one to turn to.
Chloe has only just left school. Jess is about to do her terrifying first shift since qualifying. And Aurelie is in danger of failing the course. As fragile new life begins, we expect them to look after us and our babies, but there is only so much a trainee can learn from a text book. In this film they swap rubber babies and the lecture theatre for the hospital frontline and high-risk pregnancies to find out if they have really got what it takes to be a midwife.
18-year-old Chloe is a first year student midwife starting her placement on the high-risk delivery unit. She has only just done her A-levels and moved out of home, but she is wide-eyed with enthusiasm about the wonders of childbirth and the challenge of exhausted, fed up mums. It is not long before she faces the more nerve-wracking and intimate milestones of her first vaginal examination and 'catching' her first baby at a caesarean section.
20-year-old Aurelie is struggling in her second year and has one more chance to pass a vital assessment. If she fails, it is unlikely she will ever become a midwife. Her mentor Leslie scrutinises Aurelie's work for a week before making the decision to pass or fail her. Aurelie's dream of returning to Congo to be a midwife is in danger of ending.
Jess, at 22, has just completed her three years' training. On her first shift in the blue uniform of a qualified midwife, she realises that the buck now stops with her. In the life and death dramas she encounters, her decisions are now her responsibility alone. More than anything, Jess wants her first normal birth as a qualified midwife. But on the high-risk delivery unit of St Mary's Hospital, it is unlikely to be a straightforward one.
Last on
Credits
| Role | Contributor |
| --- | --- |
| Narrator | Rupert Houseman |
| Producer | Nicola Brown |
| Director | Charlie Russell |
| Executive Producer | Zac Beattie |