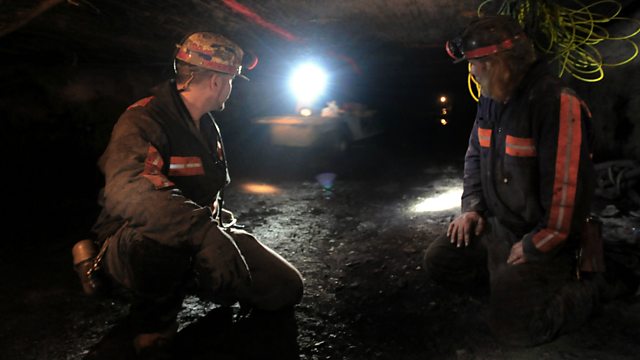 Coal Comfort
Listen in pop-out player
Coal is the most abundant fossil fuel, and the dirtiest, despite talk of "clean coal". It is the single biggest emitter of the greenhouse gas CO2. But with reserves of over 100 years, much more than for oil and gas, it's here to stay. In the US, almost half of all electricity comes from coal, about double the rate of the UK. With China and India fuelling their economic growth with coal, demand will stay high. So will we have to live with the environmental consequences or can coal become green? Peter Day travels to the US to find out.
In North Dakota coal is mined in a modern, open pit operation using electric draglines. One of the biggest hopes for minimising the impact of coal burning on climate change is to capture and store the resulting carbon dioxide. Peter visits the Great Plains Synfuels plant in North Dakota which burns coal to turn it into synthetic natural gas and captures about half of the resulting CO2 to pipe it to Canada for underground storage in a depleted oil field. Adjacent to the Synfuels plant is a coal-fuelled electricity power station, Antelope Valley. Unlike their neighbours, Antelope Valley decided against carbon capture and storage because adapting the plant would cost hundreds of millions of dollars. But if even a place like Antelope Valley, that could benefit from their neighbour's pipeline and other infrastructure can't do CCS in an economically viable way, what chance is there for other coal-burning power plants? While coal remains king, its status is being challenged not just by those concerned about climate change, but also by other fossil fuels such as shale gas and new oil fields. How will coal fight back? Or does it not need to, as the world cannot do without it anyway?
Producer Arlene Gregorius
Editor: Stephen Chilcott.
Last on
Contributors to this programme:
David Straley
North American Coal Corporation
Joseph Stanislaw
American energy expert, founder and CEO of JA Stanislaw Group LLC and Independent Senior Advisor, Energy and Sustainability
Deloitte LLP
Jonathon Porritt
Founder and director of Forum for the Future
Jeffrey Holmstead
Partner, Bracewell and Giuliani and coal lobbyist
Daryl Hill
Basin Electric Power Cooperative
John Jacobsen
Manager,  Antelope Valley Power Station
Bruce Nilles
Senior director, Sierra Club's Beyond Coal Campaign