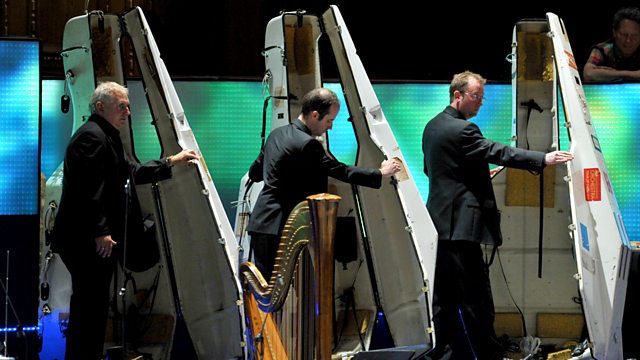 Live from the Royal Albert Hall, London
Presented by Andrew McGregor
100 years have passed since John Cage was born. This all-encompasing concert, curated by conductor Ilan Volkov, celebrates the composer's iconoclastic thinking, fertile imagination and arresting humour.
"Pay attention" and "take delight" when Ilan volkov is joined by a host of players, improvisers and electronic artists. Music of structure, form, inventiveness and surprise is played from every corner of the Royal Albert Hall. A huge orchestra of 101 musicans is onstage for "101". 5 pianos for "Winter Music". John Tilbury plays Cage's exquisitely beautiful "Concerto for Prepared Piano and Orchestra", visual artist and composer Christian Marclay improvises with an orchestra. David Behrmann, Takehisa Kosugi, Keith Rowe and Christan Wolff create new art in improvisaion, and the evening finshes with music for Catci. "Music is everywhere - you just have to have the ears to hear it." John Cage.
John Cage: 101
John Cage: Improvisation III
Christian Marclay: Baggage
John Cage: Cartridge Music and Atlas Eclipticalis with Winter Music
John Tilbury (prepared piano / piano)
Frank Denyer (piano)
Aki Takahashi (piano)
Christian Wolff (piano)
Keith Rowe (guitar/electronics)
David Behrman (electronics)
Takehisa Kosugi (electronics)
Christian Marclay (improvisation)
Adam Bohman (cassette player)
Jonathan Bohman (cassette player)
Vicki Bennett (cassette player)
Dylan Nyoukis (cassette player)
Karen Constance (cassette player)
Christoph Heemann (cassette player)
Steve Beresford (cassette player)
Mariam Rezaie (cassette player)
John Butcher (instrumentalist)
Angharad Davies (instrumentalist)
Rhodri Davies (instrumentalist)
Patrick Farmer (instrumentalist)
Ram Gabay (instrumentalist)
Lina Lapelyte (instrumentalist)
John Lely (instrumentalist)
Anton Lukoszevieze (instrumentalist)
Robyn Schulkowsky (instrumentalist)
Dimitra Lazaridou-Chatzigoga (instrumentalist)
Joan La Barbara vocals)
BBC Scottish Symphony Orchestra
Exaudi
James Weeks (director of Exaudi)
Ilan Volkov (conductor).
Last on
More episodes
Previous
You are at the first episode