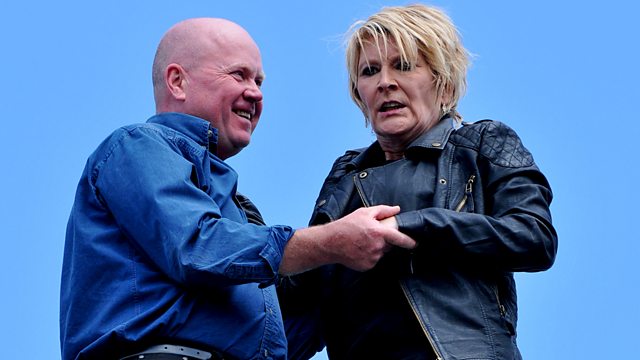 09/08/2012
Phil warns Ben to watch Ian while he focuses on Shirley's abseil. Nervous, Shirley hides in the B&B, avoiding Phil and an enthusiastic Jean. Denise shows her a video of Carly's baby. Meanwhile, Ben discovers Ian's missing. Shirley hides in a car in the Arches, then the café toilets, but eventually emerges to discover the abseiling kit's been double booked. Phil suggests Shirley face her fears by ascending the roof and agrees to accompany her. Phil cajoles a petrified Shirley onto the roof and spots Ian watching. As the crowd cheers below, Shirley proposes to Phil.
Janine's exhausted from needlessly fussing over Scarlett. At Michael's insistence, Lola offers mothering advice. Janine's embarrassed. She discovers a note dropped by Michael, 'Vic - 12', and rings him, but he claims he's at the gym. Janine seeks Michael out, nervy in crowds with Scarlett. She's outraged on discovering him at the cook off making suggestive comments to Lucy but has to flee to the café when she's desperate for the toilet. Outside, there's no sign of Michael or Scarlett. Janine frantically searches the baby competition, then finds Scarlett safe in Michael's arms. Michael demands she trust him. Shamefaced, Janine alleges she does.
Alfie comperes Community day. Mo runs bets on the cook-off. Nico forces Fat Boy to wear a chicken costume.
Lucy wins the cook-off. Clocking Ian watching her acceptance speech, she declares she achieved success alone.
Syed's Olympic stock's finally delivered. Lexi wins the baby competition. Syed despairs - without the prize money he can't afford to run the stall.
Tamwar reveals Masood rejected the teaching assistant job. Zainab urges Masood to take it.
Ray and Kim argue during the cook-off until Ray silences her with a kiss. They embrace passionately, oblivious that Ray's food's smoking.
Last on
Credits
| Role | Contributor |
| --- | --- |
| Phil Mitchell | Steve McFadden |
| Shirley Carter | Linda Henry |
| Ian Beale | Adam Woodyatt |
| Ben Mitchell | Joshua Pascoe |
| Ray Dixon | Chucky Venn |
| Kim Fox | Tameka Empson |
| Zainab Khan | Nina Wadia |
| Masood Ahmed | Nitin Ganatra |
| Tamwar Massod | Himesh Patel |
| Christian Clarke | John Partridge |
| Lucy Beale | Hetti Bywater |
| Alfie Moon | Shane Richie |
| Kat Moon | Jessie Wallace |
| Jean Slater | Gillian Wright |
| Michael Moon | Steve John Shepherd |
| Janine Butcher | Charlie Brooks |
| Billy Mitchell | Perry Fenwick |
| Lola Pearce | Danielle Harold |
| Roxy Mitchell | Rita Simons |
| Denise Fox | Diane Parish |
| Derek Branning | Jamie Foreman |
| Joey Branning | David Witts |
| Mo Harris | Laila Morse |
| Arthur 'Fat Boy' Chubb | Ricky Norwood |
| Jay Mitchell | Jamie Borthwick |
| Executive Producer | Lorraine Newman |
| Director | Michael Owen Morris |
| Writer | Lauren Klee |