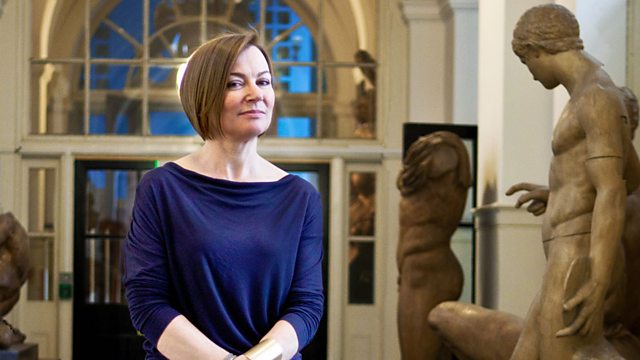 Amanda Vickery examines the history of masculinity through six different archetypes of the ideal man, archetypes which still have an echo today.
In this second programme of the series she explores the Gentleman, an ideal of refinement and culture which has its roots in Renaissance Italy. The programme begins in the Palace of Urbino, Northern Italy, where the courtier Castiglione wrote a book of advice for men which became a best-seller throughout Europe. In England its influence lasted for hundreds of years, and it spawned a whole genre of manuals for men. The advice about how to behave is comprehensive and endless: how to dress, dance, bring up children, play tennis, compose music, and even how to fish.
The cumulative message is that masculinity is something that's made not born. It involved hard work, relentless practice and rigid self-control. The programme includes a moving description of the ceremony in which a young child became a boy by being dressed in breeches for the first time at the age of six. By the 17th century it was no longer enough for a man to be a warrior knight; he had to be cultured and graceful as well. Above all, he had to cultivate charisma.
Of course the mask of the gentleman often slipped. Rigid self-control was not universal among real men, nor were the all-important charisma and confidence given to all. For every cool courtier or accomplished clergyman there was a rowdy drunk - sometimes they were the same person!
Contributing scholars include Luca Mola, Lawrence Klein and Alexandra Sheppard.
Amanda Vickery is Professor of Early Modern History at Queen Mary, University of London.
Producer: Elizabeth Burke
A Loftus production for BBC Radio 4.
Last on