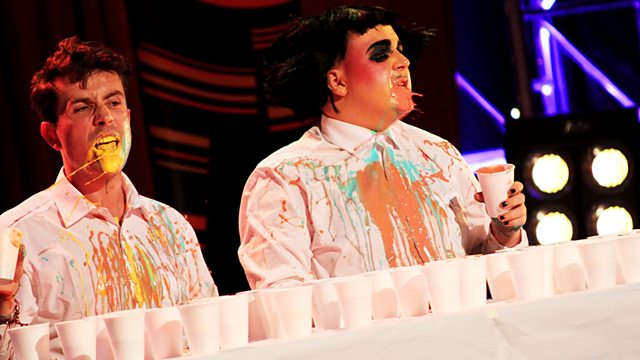 The Fun and Filth Cabaret: Day 3
Still going strong, it's Day 3 of Radio 1's Fun & Filth Cabaret at the 2012 Edinburgh Festival Fringe with Grimmy, Scott and the gang! Anything could happen - and some of it could be a bit naughty?
Tonight Davy Samford has an act that has to be seen to be believed; there's comedian Rhys Darby - AKA Murray from Flight Of The Conchords; dancers Up & Over It; Irish freestyle comedy hip-hop with Abandoman; the time-travelling magicians Morgan & West; beatboxer Shlomo, joining forces with Police Academy's Michael Winslow; and your guest host Paloma Faith!
And, if that's still not enough for you, another Radio 1 listener performs in Edinburgh, live from their home on webcam - before Grimmy takes to the stage with his own carefully crafted act!
This show isn't suitable for children and will include strong language and adult themes.