Curiosity

Curiosity is a billion dollar space rover, five times heavier than anything landed on Mars before.

Its electronics are designed to work in temperatures lower than on the coldest places on Earth and its components will have to withstand forces greater than those exerted on a supersonic jet. Powered by its own nuclear generator, it will carry the biggest payload of scientific equipment ever sent to another planet.

Bermuda Triangle

Mars has become known as the Bermuda Triangle of space - two thirds of all missions to the red planet have ended in failure.

When Curiosity arrives at Mars, it will have to slow itself down from 20,000km/h through a dangerously unpredictable atmosphere. To land safely on the surface, the spacecraft will have to use of the world's biggest heat shield, the world's biggest supersonic parachute and a specially designed crane system. The 'skycrane' will winch the rover down the final 20m on wires suspended from a rocket-powered platform hovering in the Martian sky.

Gale Crater

Curiosity's destination is Gale Crater - a crater 154km wide near the Martian equator.

At its centre is Mount Sharp - a 5.5km mountain formed from layered rock. The mission's scientists believe the layers of this 2 billion year-old mountain will reveal its geological history. The rover will use high resolution cameras, a rock-zapping laser and a drill to probe the layers before analysing samples to investigate what the Martian environment would have been like at different points in its ancient history. They hope to reveal whether Mars could ever have supported life.
Horizon interactive ebook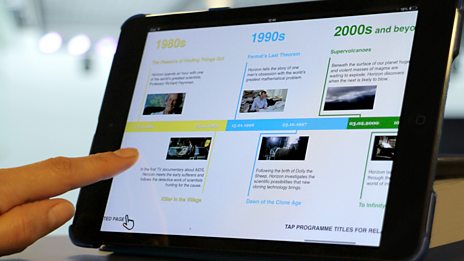 Celebrate 50 years of Horizon with this free downloadable ebook for tablets.
Horizon archive collection

Entire episodes chosen to celebrate the show's 50th anniversary, starting from 1964.