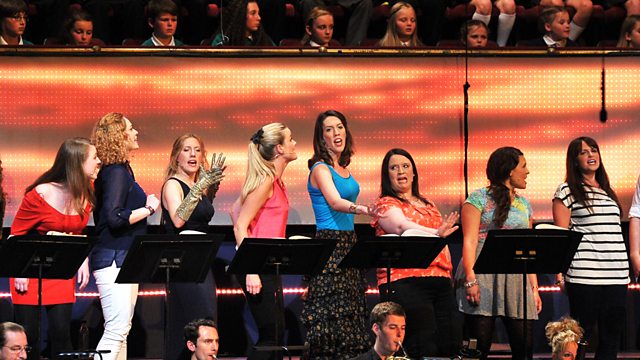 Prom 32 - Bernstein Mass
Live from the Royal Albert Hall, London
Presented by Katie Derham
Bernstein devised his Mass not as a religious setting, but as 'a theatre piece for singers, players and dancers. It has courted controversy ever since it was first performed at the opening of the John F. Kennedy Center in Washington in 1971. There will be over 250 young people from across Wales and beyond joining members of the BBC National Orchestra and Chorus of Wales to perform it with charismatic conductor Kristjan Jarvi.
The young performers come from the National Youth Orchestra and National Youth Choir of Wales, the Royal Welsh College of Music and Drama, 120 young choristers from primary schools across South Wales, and the award -winning choir Aelwyd y Waun Ddyfal - as well as a rock band and over 100 kazoos.
Bernstein fuses a kaleidoscopic mix of musical, political and theological colours in a work which takes us through the movements of the mass, as the presiding celebrant gradually loses control of first his congregation and then his own mind. Elements of jazz, rock, Latin and blues rub shoulders with counterpoint, avant garde and the best of Bernstein's Broadway melodies. The 1970s world was deeply disturbed by the realities of the Cold War and Vietnam, confused sexualities and blurred moral boundaries. All the frustrations and all the anger are penned up in this explosive mix, bound by Bernstein's eclectic score and period lyrics from the composer and Stephen Schwartz, plus a rhyming couplet by Paul Simon. At the height of the cacophony, the celebrant smashes the chalice, seemingly destroying any hope that his god actually exists. But from the following silence, a soft hymn emerges, singing God a secret yet a simple song. As the final prayer dies, a warm and reassuring voice from the quadraphonic tape which interlaces the score declares 'The Mass is ended: go in peace'.
Bernstein was born into the Jewish faith, but he was fascinated by the ritual of the Catholic Mass. In this work he said, he wanted to "communicate as directly and universally as I can a reaffirmation of faith". Despite his wishes - and the success of the premiere, critics slammed the "superficiality and pretentiousness" whilst Catholic clergy considered the work blasphemous. But when one such archbishop in Cincinnati spoke out against any Catholic to even see a production in 1972, he suffered a fatal stroke which in turn ensured the run was a sell-out success. Despite it's religious criticisms, the Vatican finally hosted a production in 2000 to commemorate the World Jubilee for Migrants. Increasingly this work, in which Bernstein wears his heart deeply engrained on his sleeve, is becoming a modern classic.
Bernstein: Mass
Morten Frank Larsen (bass-baritone)
Julius Foo (treble)
Ysgol Gynradd Gymraeg Pwll Coch, Caerdydd
Ysgol Gynradd Gymunedol Gymraeg, Llantrisant
Ysgol Gynradd Dolau, Llanharan
Ysgol Gynradd Gymraeg, Rhydaman
National Youth Choir of Wales
Aelwyd y Waun Ddyfal
Musicians from the Royal Welsh College of Music & Drama
BBC National Chorus of Wales
BBC National Orchestra of Wales
National Youth Orchestra of Wales
Kristjan Järvi (conductor)
Thomas Kiemleb (stage director)
This Prom will be repeated on Friday 17th August at 2pm.
Last on