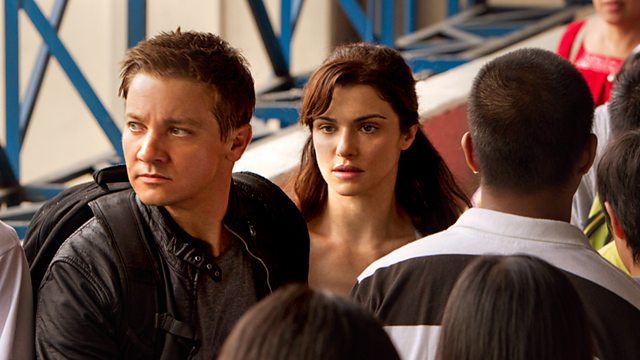 Bourne writer Tony Gilroy, large-scale public theatre, Jackpot review
Listen in pop-out player
With John Wilson.
Tony Gilroy wrote the original Bourne trilogy of films starring Matt Damon and has written and directed the latest, The Bourne Legacy, following the departure of director Paul Greengrass and Matt Damon. Gilroy, who wrote and directed the George Clooney film Michael Clayton, discusses the latest re-incarnation of the spy franchise, and the challenge of creating a Bourne sequel without the central character whose name appears in the title.
Jackpot, a crime caper based on a story by bestselling Norwegian author Jo Nesbo, is the latest slice of Nordic noir to arrive in our cinemas. Kim Newman reviews.
7,500 volunteers performed in the Olympic opening ceremony, 1700 volunteers are involved in this year's production of the York Mystery plays, and for the National Theatre of Wales's new production of Coriolanus, 450 audience members walk around with the actors, playing an active part in 'the crowd scenes'. John finds out why theatre is increasingly expecting audiences to get up and join in, talking to theatre directors Damien Cruden and Mike Pearson, and the critic Natalie Haynes.
Producer Jerome Weatherald.
Last on
Featured in...
Magazine programme on the worlds of arts, literature, film, media and music.