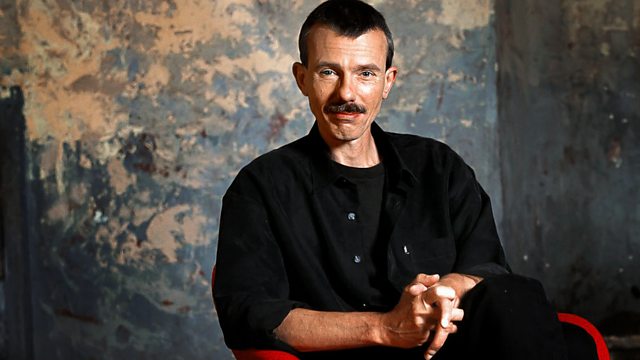 08/08/2012
Jonathan Swain presents. Erich Leinsdorf centenary programme featuring archive recordings with the Concertgebouw Orchestra.
12:31 AM
Bartók, Bela (1881-1945);
Concerto for orchestra (Sz.116) (1943, rev. 1945)
Royal Concertgebouw Orchestra), Erich Leinsdorf (conductor)
1:09 AM
Strauss, Richard [1864-1949]; arr. Erich Leinsdorf [1912-1993]
Die Frau ohne Schatten - Suite
Royal Concertgebouw Orchestra, Erich Leinsdorf (conductor)
1:30 AM
Britten, Benjamin (1913-1976)
Choral Dances from Gloriana - Coronation opera for Elizabeth II (Op.53) (1953)
The King's Singers
1:37 AM
Britten, Benjamin (1913-1976)
Symphonic Suite from the Opera 'Gloriana'
Peter Pears (tenor), SWF Symphony Orchestra, Benjamin Britten (conductor)
2:02 AM
Rachmaninov, Sergei (1873-1943)
Sonata No.2 in B flat Minor (Op.36)
Aldo Ciccolini (piano)
2:21 AM
Fauré, Gabriel (1845-1924)
Nocturne for piano No.1 in E flat minor (Op.33 No.1)
Livia Rev (piano)
2:31 AM
Dvorák, Antonín (1841-1904)
Trio for piano and strings No. 3 in F minor (Op.65)
Grieg Trio
3:11 AM
Fasch, Johann Friedrich (1688-1758)
Overture à due chori in B flat
Cappella Coloniensis, Hans-Martin Linde (conductor)
3:36 AM
Bach, Johann Sebastian (1685-1750)
4 Schemelli Chorales - Komm, süsser Tod, komm, sel'ge Ruh! (BWV.478); Liebster Herr Jesu, wo bleibst du so lange? (BWV.484); O finstre Nacht, wann wirst du doch vergehen (BWV.492); So wünsch' ich mir zu guter Letzt ein selig Stündlein (BWV.502)
Bernarda Fink (mezzo soprano), Marco Fink (bass baritone), Domen Marincic (gamba), Dalibor Miklavcic (organ)
3:46 AM
Schubert, Franz (1797-1828)
Allegretto in C minor (D.915)
Halina Radvilaite (piano)
3:52 AM
Söderman, August (1832-1876), lyrics by Johan Ludvig Runeberg
Three songs from 'Idyll and Epigram' - När den sköna maj med sippor kommit ; Mellan friska blomster genom lunden ; Minna satt I lunden
Swedish Radio Choir, Eric Ericson (conductor)
3:58 AM
Bach, Johann Sebastian (1685-1750)
Concerto for 2 violins and string orchestra (BWV.1043) in D minor
Espen Lilleslatten & Renata Arado (violins), Bergen Philharmonic Orchestra, Ivor Bolton (conductor)
4:15 AM
Sibelius, Jean (1865-1957)
Music to a Scene (1904)
Finnish Radio Symphony Orchestra, Jukka-Pekka Saraste (conductor)
4:22 AM
Beethoven, Ludwig van (1770-1827)
Coriolan Overture in C minor (Op.62) (1807)
Swedish Radio Symphony Orchestra, Manfred Honeck (conductor)
4:31 AM
Moniuszko, Stanislaw (1819-1872)
Kochanka hetmanska
Polish Radio National Symphony Orchestra in Katowice, Bogdan Oledzki (conductor)
4:38 AM
Bach, Johann Sebastian (1685-1750)
Cantata - 'Widerstehe doch der Sünde' (BWV.54)
Jadwiga Rappé (alto), Concerto Avenna, Andrzej Mysinski (conductor)
4:50 AM
Pärt, Arvo (b.1935)
Fratres for cello and piano (1977)
Petr Nouzovský (cello), Yukie Ichimura (piano)
5:03 AM
Mozart, Wolfgang Amadeus (1756-1791)
Symphony No 34 in C (K338)
Oslo Philharmonic Orchestra, Herbert Blomstedt (conductor)
5:25 AM
Dowland, John (1563-1626)
Thou mighty God; When David's life; When the poore criple for 4 voices - from A Pilgrim's Solace (London, 1612)
Ars Nova, Bo Holten (director)
5:36 AM
Vaughan Williams, Ralph (1872-1958)
Fantasia on a theme by Thomas Tallis for double string orchestra
BBC Philharmonic, Yan Pascal Tortelier (conductor)
5:50 AM
Suk, Josef [1874-1935]
Elegie (Pod dojmem Zeyerova Vysehradu) (Op.23) arr. for piano trio
Aronowitz Ensemble
5:57 AM
Bach, Johann Sebastian (1685-1750)
Prelude and Fugue in G minor (BWV.535)
Scott Ross (organ)
6:04 AM
Puccini, Giacomo (1858-1924)
Intermezzo - from Manon Lescaut
Netherlands Radio Philharmonic, Kenneth Montgomery (conductor)
6:10 AM
Genin, Pierre Agricola (1832-1903)
Fantaisie sur Rigoletto (Op.19)
Zhenia Dukova (flute), Andrey Angelov (piano)
6:23 AM
[Sorkocevic] Sorkochevich, Luka (1734-1789)
Sinfonie in D major
Salzburger Hofmusik, Wolfgang Brunner (organ & director).
Last on