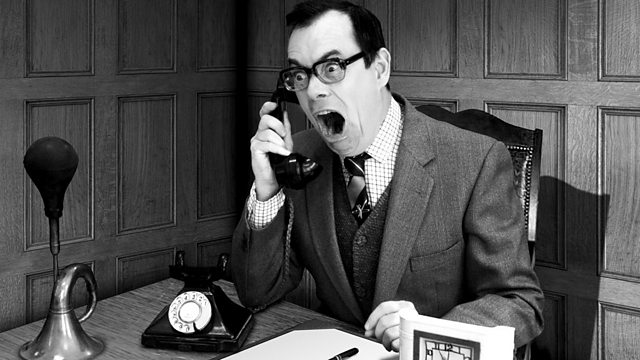 Comedy's best kept secret ingredient gets his own sketch show. Sketches, characters, sound effects, bit of music, some messin' about, you know...
In this episode, a fly, a fruitbowl and the Hallelujah Chorus. Obviously. Plus maverick street-artist Banksy's first-ever in-depth interview. Oh, did we mention the fruitbowl? Yep.
Kevin Eldon is a comedy phenomenon. He's been in virtually every major comedy show in the last fifteen years. But not content with working with the likes of Chris Morris, Steve Coogan, Armando Iannucci, Harry Enfield and Paul Whitehouse, Stewart Lee, Julia Davis and Graham Linehan, he's finally decided to put together his own comedy series for BBC Radio 4.
After all the waiting - Kevin Eldon Will See You Now...
Appearing in this episode are Amelia Bullmore (I'm Alan Partridge, Scott and Bailey), Julia Davis (Nighty Night), Rosie Cavaliero (Peep Show), Paul Putner (Little Britain), Justin Edwards (The Consultants) and David Reed (The Penny Dreadfuls) with special guest Phil Cornwell as a man shouting "Wisbeach".
Written by Kevin Eldon
with additional material by Jason Hazeley and Joel Morris (Flight Of The Conchords, That Mitchell and Webb Sound).
Original music by Martin Bird.
Produced and directed by David Tyler
A Pozzitive production for BBC Radio 4.
Last on