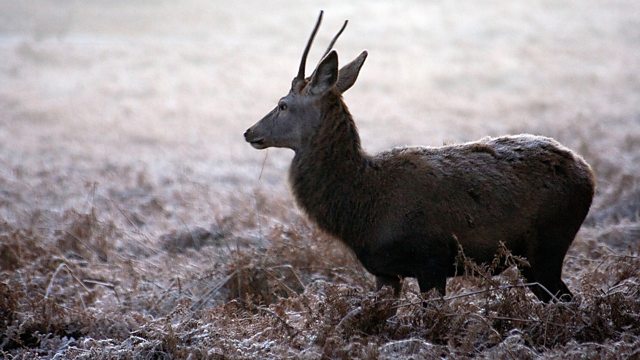 The UK's Rarest Frog
Listen in pop-out player
The Living World: The UK's Rarest Frog
The UK's rarest frog is the pool frog and just 60 of them live in ponds at a secret location in Norfolk. Although the last native English pool frogs died out over a decade ago, they were reintroduced here from Sweden in 2005-2008. The Swedish pool frogs are most similar in colour and size to the original British pool frogs and are mottled dark brown with a bright lime-green stripe down their backs. In Living World Joanna Pinnock meets John Baker, a consultant specialising in reptiles and amphibians, who is monitoring pool frog numbers. Male pool frogs have a loud quacking call and so to count them in the breeding season John plays frog recordings to which the males respond by ballooning out white air-sacs at the corners of their mouths.
Pool frogs are related to European marsh and edible frogs, and like them, enjoy basking in warm sunshine. Extrovert behaviour like this makes them vulnerable to predators though and many frogs have been eaten by herons, grass snakes and even otters. Joanna comes face to face with a couple of grass snakes on site and encounters their very smelly defence strategy!
For the frogs, conservation efforts will aim to protect this slowly growing population and perhaps extend the range of pool frogs in East Anglia to ensure the return of this native.
Last on