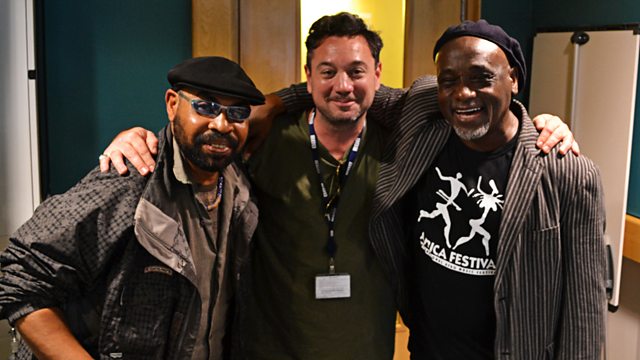 29/07/2012
Aw Jeah, it's a Sunday of jams, with your boy Huey staying classy all the way through punk, funk, reggae, soul, rock, hip hop, and anything else he's digging this week.
KonKoma are Huey's guests this week. Signed to Soundway Records, KonKoma were formulated by saxophonist Max Grunhard and producer Ben Lamdin (Nostalgia 77), who wanted to create a band around two highly esteemed Ghanaian musicians - Alfred Bannerman and Emmanuel Rentzos.
Over the years, Alfred and Emmanuel have graced the stage with Bobby Womack, Hugh Masakela and Peter Green, as well as being long-term members of the Afro-rock band Osibisa. They play a rich blend of Afro-funk, jazz, soul and traditional African rhythms and released their self-titled debut last month.
Our don of Sharing Is Caring is Lemon Jelly's Fred Deakin who is currently working under the moniker, Frank Eddie.
And as always we'll be wishing you love, peace and soul as we turn the clock and get down with the Soul Train.
Last on