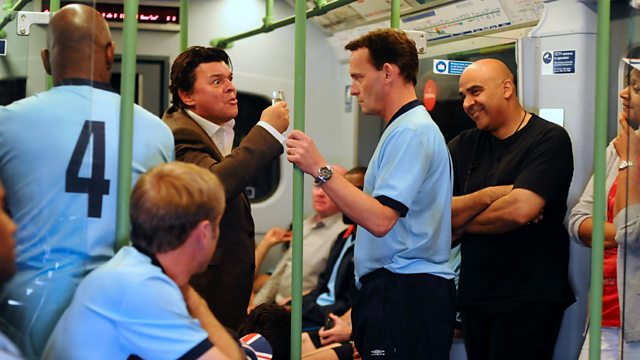 23/07/2012
Billy excitedly prepares for his Olympic torch relay. At the Minute mart, he unveils a torch arrival countdown clock. Janine fires Billy for giving Michael the new safe combination. Billy tells Jean that Honey's bringing Janet and William later. Although worried about the time, Billy plays in the football match for Alfie. On the tube home, the team bicker, resulting in a fight. Anthony pulls the emergency lever. The train grinds to a halt.
Billy's convinced Jay's to blame for Lola's ankle tag. Shirley gives Lola George's toy tiger. Lola fakes contractions in the charity shop. Cora accuses Lola of stealing the toy tiger. Lola keeps Jay company as he works on Derek's car. He finds the car seat soaking and Lola gone. Jay discovers Lola in McKlunky's, in labour.
Tanya tells Lucy Jane's in Florida and wishes Bobby happy birthday. Bobby hopes Ian will call, then cuts his finger helping in the cafe. Tanya thinks it's no place for a child.
Kat's annoyed when Alfie insists she's needed at the Vic and can't attend the match. Kat sends a text on her secret mobile. On the tube, her potential lovers all check their phones. Jean's alarmed by a phone call and hurries out. Kat leaves a bemused Shirley in charge.
Denise wants Zainab to work late during the Olympics. Zainab turns her attentions to the Argee Bhajee and devises fast boxes for Ramadan. Tamwar insists they can't afford her wages. Zainab agrees to the late shifts.
Cora claims the best items from Joy's house clearance. Patrick wants to buy Cora a replacement for her lost bracelet. Tyler tells Joy that Patrick and Cora aren't together. Joy thinks Cora's a grave robber. Cora kisses Patrick, watched by Denise.
Shirley announces her abseil is in aid of a trust fund for George.
Last on
Credits
| Role | Contributor |
| --- | --- |
| Lola Pearce | Danielle Harold |
| Jay Mitchell | Jamie Borthwick |
| Ben Mitchell | Joshua Pascoe |
| Arthur 'Fat Boy' Chubb | Ricky Norwood |
| Billy Mitchell | Perry Fenwick |
| Alfie Moon | Shane Richie |
| Derek Branning | Jamie Foreman |
| Jack Branning | Scott Maslen |
| Max Branning | Jake Wood |
| Phil Mitchell | Steve McFadden |
| Michael Moon | Steve John Shepherd |
| Tyler Moon | Tony Discipline |
| Masood Ahmed | Nitin Ganatra |
| Executive Producer | Lorraine Newman |
| Writer | Matt Evans |
| Ray Dixon | Chucky Venn |
| Kat Moon | Jessie Wallace |
| Jean Slater | Gillian Wright |
| Shirley Carter | Linda Henry |
| Roxy Mitchell | Rita Simons |
| Cora Cross | Ann Mitchell |
| Patrick Trueman | Rudolph Walker |
| Denise Fox | Diane Parish |
| Kim Fox | Tameka Empson |
| Zainab Khan | Nina Wadia |
| Tamwar Masood | Himesh Patel |
| Tanya Cross | Jo Joyner |
| Lucy Beale | Hetti Bywater |
| Janine Butcher | Charlie Brooks |