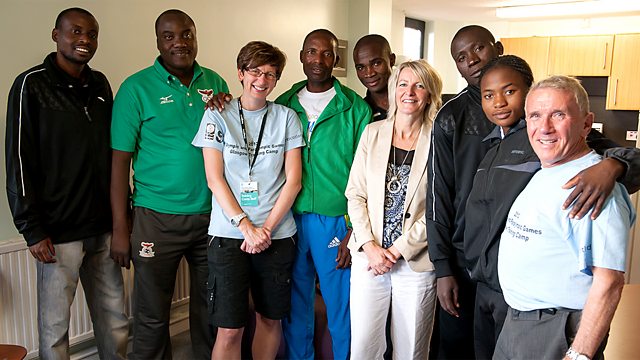 Lisa Summers sits in
Lisa Summers talks to novelist Gillian Slovo about her writing and how growing up in South Africa with parents involved in the anti-apartheid movement impacted on her life.
The Catholic Church has appointed Philip Tartaglia as the new Archbishop of Glasgow. Journalist Stephen McGinty looks at the challenges ahead for him as the Scottish Government introduces a bill to legalize same sex marriage.
As the Olympics are upon us Lisa hears from the Head of the Multi- Faith Chaplaincy Service for the Olympic and Paralympic Games about how they'll be looking after needs of the athletes.
Olympic Torch bearer and Gold medalist in the Transplant Games Lesley Forrest explains how her kidney transplant and her participation in sport changed her life.
The Zambian athletes have been training In Glasgow before heading to London for the Olympic Games. Reporter Paul Saunders finds out how they got along in Scotland.
Plus, Ivor Telfer from 'More Than Gold' explains how the Christian community can engage with sport and find out what motivates one volunteer to offer hospitality by opening up her own home to the friends of Olympic athletes.
Last on