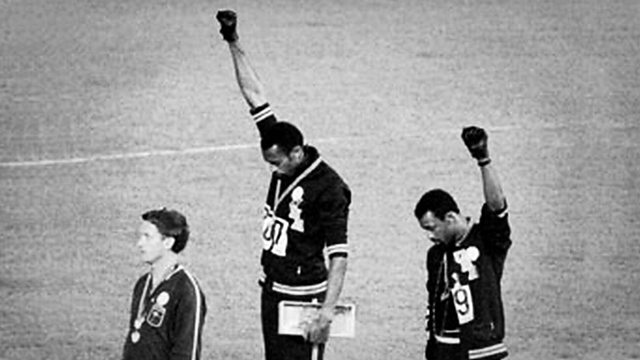 The athletes who defied the boycotts and won gold; the sprinter who gave the Black Power salute; the doctor who broke the East German doping scandal: and the girl fed so many steroids she became a boy - all tell their stories, as this series explores how controversy has never been far from the five rings.
Jez Lowe's Flags looks back on the anti-apartheid boycott of the Montreal Games in 1976 when African nations decided to withdraw from the competition in protest at New Zealand's rugby tour of South Africa. Athletes who missed out on certain gold consider whether the protest was worth it.
The Cold War also enveloped the Olympics and the Moscow Games of 1980 were the subject of a boycott by the West over Soviet military intervention in Afghanistan. In Julie Matthews' The Political Divide, gold medal-winning 100m sprinter Allan Wells reflects on the boycott that marred the Moscow Games, and the arm-twisting that went on to try and stop British athletes competing there.
Another Matthews' song, Silent Salute, tackles the 1968 Mexico Black Power salute, with John Carlos explaining how he and Tommie Smith stunned the world with their protest. The salute was about dignity and human rights, he says, but he was braced for a sniper's bullet as he raised his black-gloved fist in that iconic moment.
When Olympic gold became an issue of ideological supremacy in the mid-1970s, the methods the East German state adopted to win gold left lasting marks on its athletes. In Boo Hewerdine's What's the Price of Gold, German doctor Werner Franke, who exposed the scandal, describes the doping regime, while GDR regime expert Jutta Braun explains the hold the system had over its people.
In Little Blue Pills, Martin Simpson accompanies the remarkable and sad story of shotputter Andreas Krieger, who was fed so much testosterone he turned from a woman into a man. In an interview recorded at the military supplies shop he now runs in Magdeburg, Andreas gives a frank account of his experiences.
And with London 2012 marking a century since the first major controversy to hit the Olympics, another Simpson composition re-visits the story of Native American decathlete Jim Thorpe, who won double gold in Stockholm 1912 and was once dubbed "the greatest athlete of all time". Stripped of his medals for breaking Olympic rules, it took his family 75 years to get those medals re-instated.
Last on