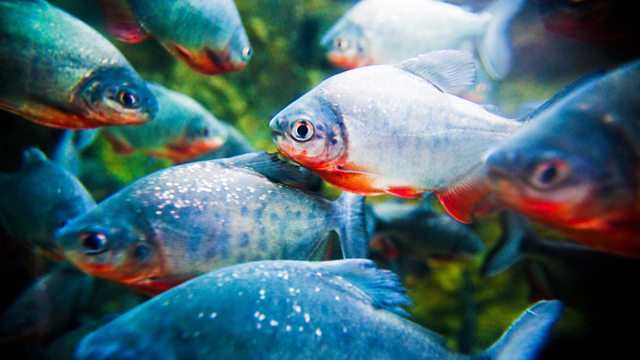 Swimming with Piranhas
Mike Greenwood journeys into one of the world's final frontiers, the relentlessly hot Chaco in Paraguay, to uncover how environmental groups, ranchers and missionaries are battling for the soul of one of the last wildernesses.
In the hostile environment of the north Chaco in Paraguay, indigenous peoples, cattle ranchers, illegal loggers, eco-warriors, zealous missionaries - not forgetting piranhas - combine to create the febrile atmosphere of a new frontier.
This is a meeting point for several major habitats. It is also one of the last places on earth where un-contacted peoples live. Some scientists believe these lesser-known habitats are more threatened than rainforest regions such as the Amazon. Paraguay's Chaco grasslands are particularly at risk because they easily convert to cattle pasture. Cattle ranching is profitable but, as well as destroying the local ecology, it has also pushed out indigenous people.
Mike experiences, close-up, this anthropological and environmental melee and meets its remarkable, and sometimes unexpected characters - from German-speaking Mennonites thriving in the Chaco to Moonies who have bought up an entire town in the Chaco; and from environmental campaigners to indigenous people displaced from their ancestral land. We will also hear from pro-development governors and ranchers who argue conservation is a luxury Paraguay can not afford - development brings in money that promises to lift the country's many poor out of poverty.
This is the closest most of us will get to the 'wild west'. A 21st-century frontier country in which a battle is being fought for the socio-economic and spiritual soul of a hitherto little explored region.
Presenter: Mike Greenwood
Producer: Eve Streeter
A Pier production for BBC Radio 4.