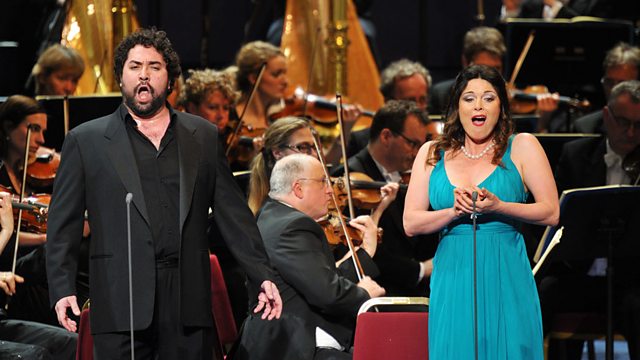 The Trojans - Acts 1 and 2
Live from the Royal Albert Hall, London
Presented by Donald Macleod
From the Royal Opera's acclaimed new production directed by David McVicar, Antonio Pappano conducts a concert performance of Berlioz's The Trojans, with Bryan Hymel as Aeneas, Anna Caterina Antonacci as Cassandra and Eva Maria Westbroek as Dido. The Trojans is Berliozs' most ambitious work, one that he himself considered greater than anything he had done previously. Based on Virgil's epic poem The Aeneid, The Trojans tells the story of the destruction of Troy, and of the Trojan warrior Aeneas's quest to found a new dynasty in Italy. On the way he meets Dido, Queen of Carthage, and falls in love. In the ultimate battle between duty and love, which will prove stronger?
Berlioz: The Trojans - Acts 1 & 2
Aeneas ..... Bryan Hymel (tenor)
Coroebus ..... Fabio Capitanucci (baritone)
Panthus ..... Ashley Holland (baritone)
Narbal ..... Brindley Sherratt (bass)
Iopas ..... Ji-Min Park (tenor)
Ascanius ..... Barbara Senator (mezzo-soprano)
Cassandra ..... Anna Caterina Antonacci (soprano)
Dido ..... Eva-Maria Westbroek (soprano)
Anna ..... Hanna Hipp (mezzo-soprano)
Hylas ..... Ed Lyon (tenor)
Priam ..... Robert Lloyd (bass)
Greek Chieftain ..... Lukas Jakobski (bass)
Ghost of Hector ..... Jihoon Kim (bass)
Helenus ..... Ji Hyun Kim (tenor)
Hecuba ..... Pamela Helen Stephen (mezzo-soprano)
Royal Opera Chorus
Orchestra of the Royal Opera House
Antonio Pappano (conductor).
Last on
More episodes
Previous
You are at the first episode