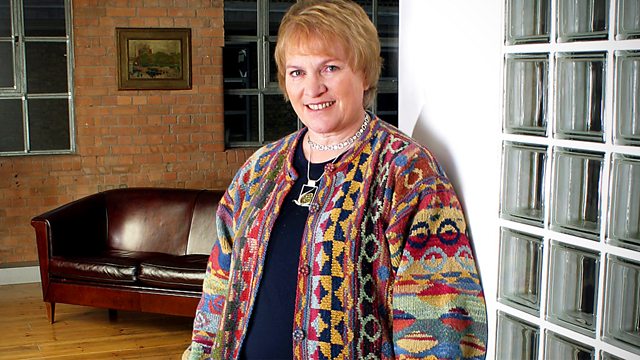 Kate Bond, Dame Stella Rimington, Claudia Roden, Dr Alan Rabinowitz
Listen in pop-out player
Libby Purves meets Stella Rimington, former head of MI5; food writer Claudia Roden; biologist Dr Alan Rabinowitz and Kate Bond of experimental theatre group You Me Bum Bum Train.
Kate Bond co-founded You Me Bum Bum Train in 2004. A performance journey for one audience member - or passenger - at a time, You Me Bum Bum Train has been variously called live art, interactive comedy and experimental theatre. Passengers participate in a variety of situations from hosting their own chat show to running a kebab shop. You Me Bum Bum Train is part of the London 2012 Festival and performances run from July 19th-26th and August 15th-September 19th
Dame Stella Rimington joined the Security Service M15 in 1968. During her career she worked in all the main fields of the Service including counter-subversion, counter-espionage and counter-terrorism. She became the first female director general in 1992. Her latest novel featuring MI5 agent Liz Carlyle, The Geneva Trap, is published by Bloomsbury.
Dr Alan Rabinowitz is one of the world's leading big cat experts. He is currently the CEO of Panthera, a non-profit organization devoted to saving the world's wild cat species. In a new film for the BBC's Natural World series, Tiger Island, he goes to Sumatra to visit a project that is rehabilitating man-eating tigers in an attempt to save them from extinction. Natural World - Tiger Island will be broadcast on 26th July at 8pm on BBC Two.
Claudia Roden is a renowned food writer and oral historian who was born and brought up in Egypt as part of a Jewish family. Her most famous book The New Book of Middle Eastern Food, published in 1968, introduced Middle-Eastern cuisine to home cooks the world over. For her latest book about Spanish food Claudia spent five years researching and writing about the history, people and culture of Spain. The Food of Spain - A Celebration is published by Penguin/Michael Joseph.
Producer: Paula McGinley.
Last on