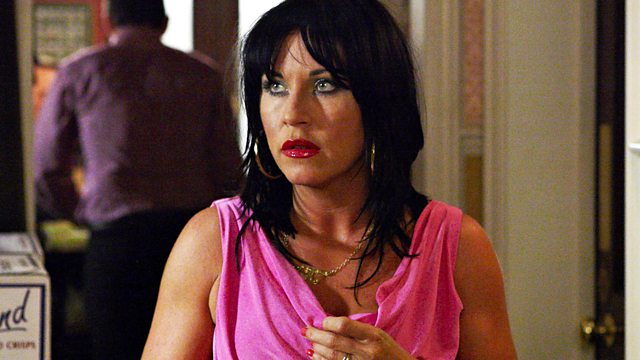 19/07/2012
Kat's lover leaves her the key to 91B George Street. Alfie uses a metallic board to plan football formations. He's dismissive of Kat. When Kat asks if he's paid Roxy her money Alfie tells her it's sorted. Later, Kat lets herself into the flat and smiles at whoever's waiting inside…
At the hospital, Janine rejects Michael's coffee. She's worried that another baby, Jake, is making better progress than Scarlett. Alfie makes Michael eat a healthy meal. Kat gives him baby clothes. Kat questions Michael about how he and Janine are coping. Michael buys Janine flowers, but throws them in anger when he discovers the safe code's changed. Janine shocked when Jake's condition suddenly deteriorates. She leaves Michael a voicemail; she can't do this without him. But by the time Michael arrives at the hospital, a smiling Janine's holding Scarlett and appears not to need him.
Shirley feigns disinterest when Denise shows her a photo of Carly's baby. Shirley keeps an eye on Lola for Billy. When Lola attempts to sneak out to buy jeans, Shirley shuts her in her room, removing the door handle. Lola attempts to break the window, Shirley rushes in and the door slams trapping them both. They're horrified but eventually start to talk, sharing a bun that Billy had earlier stopped Lola eating. Lola asks about childbirth. Shirley talks about Carly and tells Lola she's planning an abseil at the Vic. Lola admits she's scared of motherhood, Shirley thinks she'll be fine. When Billy lets them out, Lola insists he won't have to ground her again. Shirley offers to distract Billy while Lola buys her jeans, but Lola's decided she's got enough pairs.
Mortified when he catches Rose and Poppy discussing his pants, Andrew calls Dot. Very soon, Rose is setting off to visit Dot.
Last on
Credits
| Role | Contributor |
| --- | --- |
| Kat Moon | Jessie Wallace |
| Michael Moon | Steve John Shepherd |
| Janine Butcher | Charlie Brooks |
| Lola Pearce | Danielle Harold |
| Shirley Carter | Linda Henry |
| Billy Mitchell | Perry Fenwick |
| Alfie Moon | Shane Richie |
| Andrew Cotton | Ricky Grover |
| Poppy Meadow | Rachel Bright |
| Denise Fox | Diane Parish |
| Annabel | Lisa Greenwood |
| Executive Producer | Lorraine Newman |
| Director | Ian White |
| Writer | Peter Mattessi |