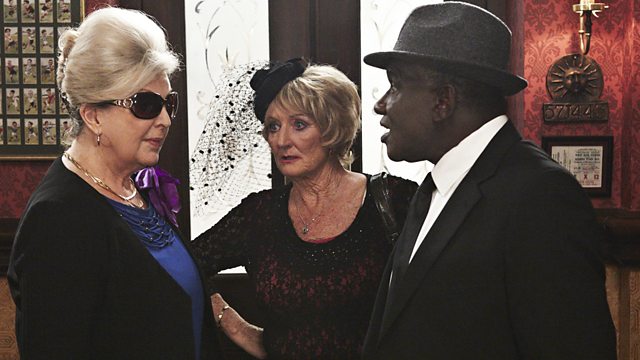 17/07/2012
Janine's suspicious when Michael asks her to make him a signatory of the business account. Michael joins Janine at a baby resuscitation class but can't cope and leaves. Later, leaving Whitney with Scarlett, Janine heads home and discovers Michael's bought a BMW. Michael confides to Alfie his fear that Scarlett's suffering for his sins, Alfie tells him it's not about his feelings anymore. Later, Janine finds Michael with the office safe open. He explains how much he loves Scarlett and hates seeing her in pain; all he can do is keep things going at the office. Janine's exhausted, Michael tells her he'll look after Scarlett so she can have a night off. Later, Janine asks Billy to change the combination of the safe and keep an eye on Michael.
Alfie wants to capitalise on Billy's Olympic publicity. Billy will only agree to join the football team if he can be captain, but when the team skip training in protest Alfie talks him into being a striker instead.
Lola's home, having feigned labour pains until the police let her off with a warning. Jay assures Lola he's there for her - but only as a friend. Billy decrees Lola's staying in until the baby comes and tells Jay to stay away, unfairly blaming him for the trouble Lola's been in.
Ben gives Shirley a teddy bear for Carly, but Carly doesn't want it. Ben assures Shirley she may not be Carly's mum but she's his.
Cora and Rose tag along to a wake with Patrick. Cora masquerades as Patrick's wife to persuade the widow, Joy, to donate her husband's belongings to the charity shop. Tyler and Anthony twig what Cora's up to, but agree to split the haul. Later, Rose tells Patrick and Cora it's obvious they've got feelings for each other.
Last on
Credits
| Role | Contributor |
| --- | --- |
| Janine Butcher | Charlie Brooks |
| Michael Moon | Steve John Shepherd |
| Billy Mitchell | Perry Fenwick |
| Lola Pearce | Danielle Harold |
| Jay Mitchell | Jamie Borthwick |
| Patrick Trueman | Rudolph Walker |
| Cora Cross | Ann Mitchell |
| Andrew Cotton | Ricky Grover |
| Tyler Moon | Tony Discipline |
| Alfie Moon | Shane Richie |
| Jack Branning | Scott Maslen |
| Ben Mitchell | Joshua Pascoe |
| Shirley Carter | Linda Henry |
| Whitney Dean | Shona McGarty |
| Executive Producer | Lorraine Newman |
| Director | Ian White |
| Writer | Lindsay Williams |
| Annabel | Lisa Greenwood |