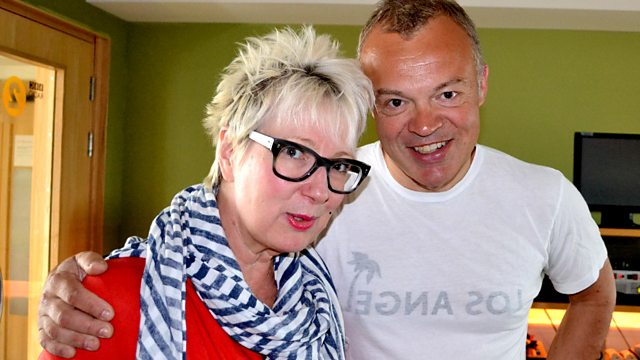 With Shirley Conran and Jenny Eclair
In his last show before heading off for his summer break, Graham pulled out all the stops, which included a truly awful 'I Can't Believe It's Not Better' song -in the form of 'Stars On 45' by Starsound , as chosen by Adam Clarke from Swindon. The only good thing was that it wasn't the 15 minute version! Phew!
'Tune With A Tale' this week was slightly different, as Graham caught up with one of his favourite callers from the past series, Pat Kellaway in Dorset. When she was on before Pat chose Barry Manilow's 'Copacabana' and this time it was another sad story, with 'Big Bad John' by Jimmy Dean. Pat also told Graham how the wedding she attended in New York went, what she wore, and how she's dreading the Olympics.
In 'Grill Graham', Richard in St Austell was worried about his cousin who has had many difficulties in her life and is due to foster a child and he's not sure it's the best thing for her to do. Then there was Helena in Corby who was worried that her well off brother is dating a horrid lady who is only after his money!
Graham's first guest of the day was self-confessed grumpy old woman Jenny Eclair. She talked about her third novel, 'Life, Death & Vanilla Slices' which has just been published. She also chatted about being back on tour, how her book has got her mother's seal of approval and the fact that she doesn't actually eat éclairs.
Then after 12, Graham's final guest of the series was the original superwoman, Shirley Conran, who dropped by to talk about the 30th anniversary of her bestseller 'Lace' which has been republished. To celebrate that fact, Shirley brought Graham in a gift, a pair of lacy pants... Shirley also talked about a vacuum cleaning race with Stirling Moss at The Savoy and how it takes 43 minutes to clean a house.
Last on