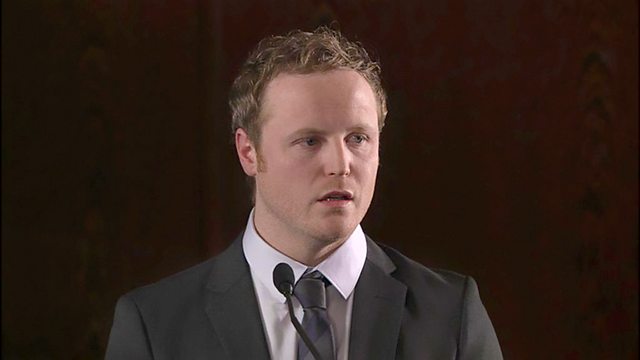 10/07/2012
Robbie is super anxious in the run up to his court case against the men who assaulted him three months earlier. Will, meanwhile, is feeling guilty that as the arresting officer he can't be at Robbie's side during the trial. He invites Hayley, Tom and Deek round for a quiet night to take Robbie's mind off the court case. Robbie isn't too keen on the idea but agrees after a little persuasion. He asks Will to accompany him to the trial again and, though torn, Will maintains it would harm his chances. Robbie puts all his efforts into cooking an OTT meal for his pals and after a couple of glasses can't help telling everyone how betrayed he feels by Will. Robbie escapes the flat and breaks down in tears alone while everyone else excuses themselves. As he leaves, Deek shares his concerns with Hayley about Will's hold over Robbie, but she dismisses it as being part and parcel of a relationship. Robbie overhears his friend's comments. When Robbie returns to the flat a fight begins after he accuses Will of being embarrassed by him. Losing his temper, Will shoves Robbie against a door frame and Robbie cuts his shoulder. Ashamed, Will apologies but avoids taking responsibility while Robbie admits it may have been his fault as well. On the day of the trial, Robbie is shaken and overwhelmed, especially when Will is called into work early. When he has to see his attackers again, Robbie is on the verge of losing his nerve until Deek turns up to support him. Robbie is relieved and touched. Taking the stand, Robbie faces the music and bravely maintains his version of events. But he's horrified when the prosecution insinuates that he provoked the attack by cruising for sex. It gets even harder when Hayley's testimony is twisted by the defence to support the attackers. Will then takes the stand and defends Robbie gallantly. But he decides to return to work after giving his evidence, leaving a distressed Robbie on his own when his attackers convincingly claim they had nothing to do with his assault. When the lawyer picks holes in their story, Robbie's hopes are raised briefly, but he is horrified when the verdict comes back Not Proven and his attackers walk free. Robbie feels utterly betrayed and takes it all out on Will when he finally turns up with a bottle of champagne. Back at the flat, Deek is worried about Robbie's shoulder injury and makes veiled enquiries into how he got it. Overwhelmed by the events of the day, Robbie closes ranks with Will and lies to Deek. Will apologies to Robbie for not being there and promises to start putting him first. They make up but Robbie is left pondering their relationship.
Leyla is maintaining her sobriety but is insulted when Stevie says she needs to admit that she has a problem. Determined to conquer her drinking alone, she's stumped when Miriam strong arms her into a liquid lunch with a medical rep. Struggling with temptation when Miriam presents her with a glass of wine, Leyla thinks on her feet and pretends the wine is corked. She goes to the bar to complain and returns with a substitute soda water masking as vodka, Leyla is horrified when Stevie sees her and protests almost too much when he refuses to taste her drink. Furious when Nicole and Stevie gang up on her at home, she threatens to throw Stevie out if he keeps meddling in her life. But can she keep herself under control?
Scarlett is desperate for some news on whether Stella and Bob will soon be hearing the patter of tiny feet and decides to volunteer herself and Stella for planning Malcolm's birthday party. When they meet to discuss it, Scarlett blatantly fishes for information and Stella leaves in a huff. When Jimmy reminds her how much she hated people fishing about her cancer, Scarlett realises the error of her ways and grovels. Stella relents and reveals that she's been tested and everything's normal. But a worried Bob overhears. Does this mean the problem might be him?
Last on
Credits
| Role | Contributor |
| --- | --- |
| Robbie Fraser | Gary Lamont |
| DCI Will Cooper | Scott Vickers |
| Leyla Brodie | Maryam Hamidi |
| Deek Henderson | Gordon McCorkell |
| Hayley McCrone | Pamela Byrne |
| Stevie Burns | Paul-James Corrigan |
| Iona McIntyre | Claire Knight |
| Stella Adams | Keira Lucchesi |
| Scarlett Mullen | Sally Howitt |
| Eileen Donachie | Deirdre Davis |
| Bob Adams | Stephen Purdon |
| Mirriam Stubbs | Kate Rutter |
| Nicole Brodie | Holly Jack |
| Ben | Johnny Pender |
| McKay | Stuart Martin |
| Jimmy Mullen | Billy McElhaney |
| DCI Donald | Robin Laing |
| Director | Jim Shields |
| Writer | Kathrine Smith |