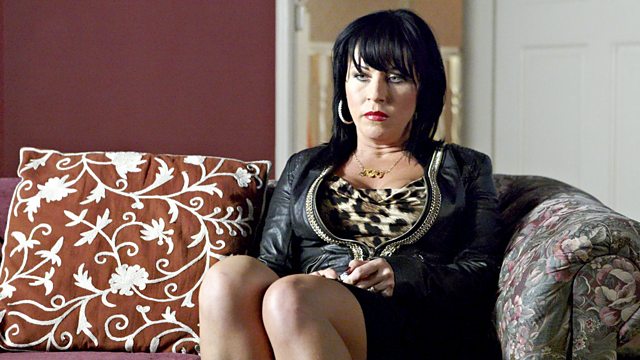 05/07/2012
Alfie misreads Kat's guilt as anger at his drunken behaviour. All Kat's potential mystery men smile when they see her. Alfie and some of the team discuss joining a pub league; Alfie blanks Michael when he offers to provide kit. Alfie gives Kat flowers. Kat's not keen on the pub league idea so Alfie burns his football boots, telling Kat he's retiring as a player and they can manage the team together. Kat's mystery man calls her repeatedly. When Alfie answers the Vic phone, the man describes himself as Kat's 'favourite fella'. When Alfie's out of earshot, Kat's firm, she can't meet the man again. But her resolve is tested when he texts 'Please? Meet me? X'.
When Derek asks Michael how Joey's getting on at work, Michael wonders if he's been taken for a mug, he only hired Joey because he hated Derek. Derek and Michael watch as Joey hits a boy who's been hassling Lucy. Lucy insists she doesn't need rescuing but kisses Joey to thank him.
Sasha discovers that Antony and Tyler give funeral director Les Coker money to put house clearances their way. She and Cora blackmail Coker into giving them the same sort of deal for the charity shop.
Zainab intercepts a letter announcing that the Minute Mart's the best in South and East London and removes the prize details. She then insists the mystery prize is rightfully hers until Denise decrees Zainab can have some paid leave whilst she gets the prize. Zainab's smug until brand agent Jed reveals the prize, an invitation to a brand event, is open to all staff members not just one.
Phil ropes Ben into helping Shirley in the burger van. They have fun and Shirley's happy – until she finds Ben's birthday card for Heather in his jacket pocket.
Last on
Credits
| Role | Contributor |
| --- | --- |
| Kat Moon | Jessie Wallace |
| Alfie Moon | Shane Richie |
| Michael Moon | Steve John Shepherd |
| Max Branning | Jake Wood |
| Lauren Branning | Jacqueline Jossa |
| Cora Cross | Ann Mitchell |
| Derek Branning | Jamie Foreman |
| Joey Branning | David Witts |
| Jack Branning | Scott Maslen |
| Zainab Khan | Nina Wadia |
| Masood Ahmed | Nitin Ganatra |
| Denise Fox | Diane Parish |
| Ben Mitchell | Joshua Pascoe |
| Phil Mitchell | Steve McFadden |
| Shirley Carter | Linda Henry |
| Ray Dixon | Chucky Venn |
| Lucy Beale | Hetti Bywater |
| Patrick Trueman | Rudolph Walker |
| Frankie | Frank Keogh |
| Director | Jennie Darnell |
| Writer | Rob Gittins |