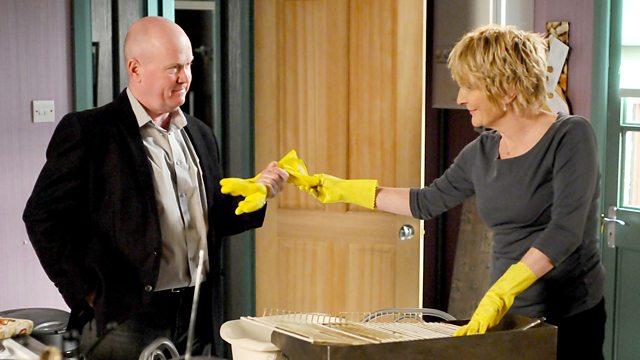 04/07/2012
Kat gives the team a rallying speech before their match. Alfie isn't keen to accept the football shirts Michael donates but Kat thanks him. Kat's left fuming when the Old Lions' manager, Vivienne, winds her up. The match begins and soon it's three-nil to the Old Lions. Derek tells Kat she needs to take some risks. Alfie's tackled and falls; he insists on taking the penalty but misses. Kat subs Ray in. Ray scores but they still lose the match. Alfie invites the Old Lions back to the Vic, where Kat awards 'man of the match' to Ray and 'legs of the match' to Jack. Kat overhears Vivienne trying to poach Ray, Ray insists he's happy at the Vic. When Kat burns herself, Ray guides her to the cold tap; they're close and there's chemistry. Derek throws Vivienne out after she slags off Kat. Kat joins Max who's skulking outside the Vic. Kat gives Michael some of Tommy's old clothes for baby Pat. Drunk, Alfie passes out upstairs. Someone joins Kat in the kitchen. Later, she adjusts her clothes and returns to the bar. Michael, Jack, Max, Ray and Derek all smile at her, but which of them has she just shagged…?
Shirley's happily absorbed in sorting out the burger van, unaware it's Heather's birthday. Ben doesn't think it's right not to mark the day and writes Heather a birthday card.
Jay claims to Lola he didn't get into the football team. They sneak in to the empty Vic but soon end up trapped in the barrel store. Lola panics – she's going to be a rubbish mum, but Jay assures her she'll be amazing. Eventually they escape and Lola makes it home within seconds of her curfew time. Billy stops Jay following Lola inside, but she slips back out and kisses him.
Last on
Credits
| Role | Contributor |
| --- | --- |
| Kat Moon | Jessie Wallace |
| Alfie Moon | Shane Richie |
| Mo Harris | Laila Morse |
| Tyler Moon | Tony Discipline |
| Anthony Moon | Matt Lapinskas |
| Michael Moon | Steve John Shepherd |
| Ray Dixon | Chucky Venn |
| Sasha Dixon | Rebecca Sanneh |
| Kim Fox | Tameka Empson |
| Lola Pearce | Danielle Harold |
| Jay Mitchell | Jamie Borthwick |
| Billy Mitchell | Perry Fenwick |
| Ben Mitchell | Joshua Pascoe |
| Phil Mitchell | Steve McFadden |
| Shirley Carter | Linda Henry |
| Christian Clarke | John Partridge |
| Syed Masood | Marc Elliott |
| Zainab Khan | Nina Wadia |
| Masood Ahmed | Nitin Ganatra |
| Max Branning | Jake Wood |
| Jack Branning | Scott Maslen |
| Derek Branning | Jamie Foreman |
| Arthur 'Fat Boy' Chubb | Ricky Norwood |
| Andrew Cotton | Ricky Grover |
| Vivienne Martinez | Kim Tiddy |
| Executive Producer | Bryan Kirkwood |
| Director | Jennie Darnell |
| Writer | Lauren Klee |