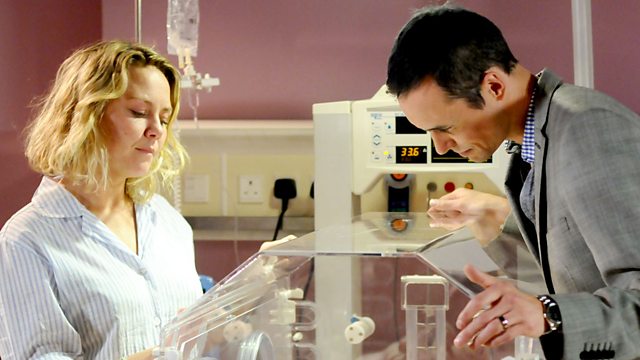 06/07/2012
Feigning a migraine, Kat hides upstairs while Alfie hosts a BBQ. Michael brings kit for the football team. On the phone, Kat instructs her mystery man to go home, it's not happening again. Alfie tells Kat he needs her by his side and when she gets upset presumes it's just the stress of juggling the family, pub and team. Kat stays upstairs ironing, baking and cleaning. Outside, Alfie hands out shirts to the football team, naming Jack as captain. Max's disappeared and Tanya collects his shirt. Kat resists checking her phone but eventually gives in and finds the message '11pm Alley Kat'. Alfie waits for Kat in bed. Downstairs, Kat asks her lover to walk away - she's a wife and mother. But when the man leaves Kat can't resist calling him back into the barrel store…
Shirley's acting out of character; Ben worries Ian's phoned her but Phil insists she knows nothing. After a jug of sangria at the Vic barbeque, Shirley drunkenly accosts Fat Boy and steals his wallet. They eventually end up in the park. After retrieving his wallet, Fat Boy calls Phil but he doesn't hear the phone. Upset and singing, Shirley climbs up the scaffolding, only to find Jean at the top with her telescope. Terrified of heights, Shirley panics while Jean calmly chats to her. Jean helps Shirley down telling her loss of a loved one is a well-known trigger for the mid-life crisis.
Janine admits to Michael she doesn't like the name Pat. Luckily Michael's already registered the baby as Scarlett Patricia Moon.
Derek's suggests a bonding game of golf to Joey but Joey rejects him. After kissing Lucy and telling her he'll call, Joey leaves in a taxi.
Cora's upset when she loses a bracelet she wears every day.
Last on
Credits
| Role | Contributor |
| --- | --- |
| Kat Moon | Jessie Wallace |
| Alfie Moon | Shane Richie |
| Michael Moon | Steve John Shepherd |
| Janine Butcher | Charlie Brooks |
| Jean Slater | Gillian Wright |
| Mo Harris | Laila Morse |
| Shirley Carter | Linda Henry |
| Phil Mitchell | Steve McFadden |
| Ben Mitchell | Joshua Pascoe |
| Derek Branning | Jamie Foreman |
| Joey Branning | David Witts |
| Lucy Beale | Hetti Bywater |
| Max Branning | Jake Wood |
| Tanya Jessop | Jo Joyner |
| Cora Cross | Ann Mitchell |
| Jack Branning | Scott Maslen |
| Kim Fox | Tameka Empson |
| Ray Dixon | Chucky Venn |
| Denise Fox | Diane Parish |
| Andrew Cotton | Ricky Grover |
| Arthur 'Fat Boy' Chubb | Ricky Norwood |
| Director | Jennie Darnell |
| Writer | Carey Andrews |