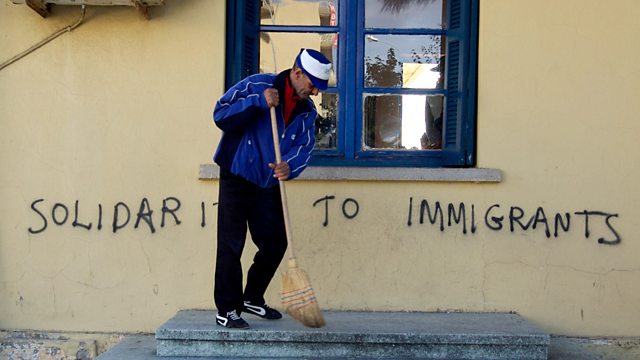 Some Promised Land
Listen in pop-out player
Writer and broadcaster Maria Margaronis follows the route taken by migrants fleeing war or poverty who are risking their lives to reach the Europe Union. It is estimated that around 75 thousand people are attempting to make the perilous journey each year in the hands of unscrupulous traffickers. They are fleeing from war-torn countries like Afghanistan and Somalia or simply in search of a better life where their economic prospects aren't so bleak. Some of them never make it, suffocating in the back of a crowded lorry or drowning in the fast flowing river that marks the border between Turkey and Greece.
The programme meets up with migrants in Istanbul, on the narrow Bosphorus Strait, which has served as the crossroads of the world for thousands of years. There are children making the journey on their own and one man who has lost his fingers and toes to frostbite on a perilous journey over the mountains from Iran. Two of his companions died. The Turkish authorities confess to being overwhelmed by the numbers which are estimated to be up to 250 people a day. Illegal migrants are detained but seldom, it seems, sent back to the countries they came from. There has been an attempt to clamp down on the people traffickers but there are huge profits to be made.
The most dangerous part of the trip is along Turkey's border with Greece. The Greeks are supposed to be building an eight mile fence but that still leaves a river which is 125 miles long. Traffickers put their charges into cheap inflatable boats and push them across, regardless of whether they are able to handle a boat or to swim. Many of them can't.
For those that do make it, there is no Promised Land but an economic crisis and yet more troubles ahead.
Last on