Add music you love and enjoy it with
Timings (where shown) are from the start of the programme in hours and minutes
02:40

Du Mont

Prélude

Performers: Ensemble Correspondances

ZIG-ZAG TERRITORIES ZZT110801

9.02am

Joseph Haydn

String Quartet in G major, Op. 77 No. 1

Performers: Kocian Quartet

PRAGA DIGITALS PRD 250 157

9.26: Rob's Essential CD of the Week

Performers: Mady Mesplé (soprano), Gabriel Tacchino (piano)

EMI 095003-2

9.31am

C.P.E. Bach

Hamburger Sonata in G major

Performers: Emmanuel Pahud (flute), Trevor Pinnock (harpsichord), Kammerakademie Potsdam

EMI 084220-2

9.42am

Performers: Philharmonia Orchestra, Anatole Fistoulari (conductor)

GUILD GHCD 2391

9.52am

Performers: The Cleveland Orchesrta, Christoph von Dohnányi (conductor)

MAA-01032-C

9.58am

Gioachino Rossini

Guillaume Tell: Act 4, scene 2: "Vengeance... Guillame est prisonnier"; "Amis, amis, secon

Performers: Arnold: John Osborn (tenor), Orchestra and Chorus of the Accademia Nazionale di Santa Cecilia, Antonio Pappano (conductor)

EMI 28826-2

10.05am: Artist of the Week - Isabelle Faust

Gabriel Fauré

Violin Sonata No. 2 in E minor, Op. 108

Performers: Isabelle Faust (violin), Florent Boffard (piano)

HARMONIA MUNDI HMC 901741

10.26am

Performers: BBC Concert Orchestra, John Wilson (conductor)

ASV CD WHL2112

10.30: Andrew Graham-Dixon's Choice

Giuseppe Verdi

"Teneste la promessa... Addio, del passato" (La Traviata, Act III)

Performers: Violetta: Maria Callas (soprano), Turin Radio Symphony Orchestra, Gabriele Santini (conductor)

NAXOS 8110300-01

10.45: Andrew Graham-Dixon's Choice

Frédéric Chopin

Waltz in A flat major Op. 34 No. 1 'Valse brillante'; Waltz in A minor, Op. 34 No. 2

Performers: Mikhail Pletnev (piano)

DG 453 456-2

11am: Rob's Essential Choice

Anton Bruckner

Adagio for string orchestra (3rd mvt of String Quintet arr. Hans Stadlmair)

Performers: Leipzig Gewandhaus Orchestra, Herbert Blomstedt (conductor)

DECCA 458 964

11.18am

Hahn

A Chloris

Performers: Mady Mesple (soprano), Dalton Baldwin (piano)

EMI 095003-2

11.22am

Performers: Philharmonia Orchestra, Anatole Fistoulari (conductor)

GUILD GHCD 2391

11.38am

Performers: London Symphony Orchestra, Antal Dorati (conductor)

MERCURY LIVING PRESENCE 432 007-2
Today's Brainteaser Answer

Where am I? Answer: The Paris Opera, known as the Palais Garnier, after its architect, Charles Garnier. It has been a much-loved feature of the Parisian landscape since 1875. Gaston Leroux's novel `The Phantom of the Opera' is set in its warren of underground passages.
Read the Essential Classics blog
Essential Choices on BBC Playlister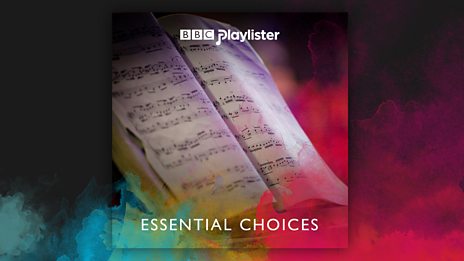 Explore the Essential Choices via BBC Playlister as chosen by Rob Cowan and Sarah Walker.