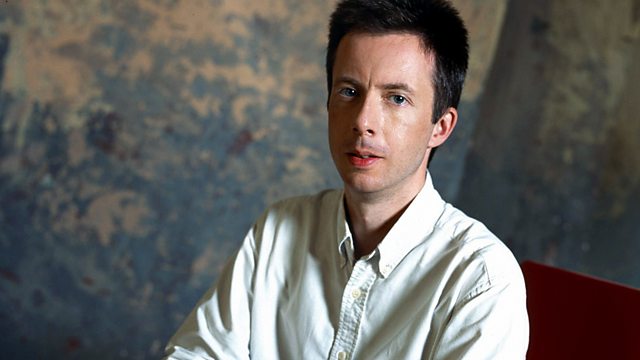 12/07/2012
John Shea presents. Last Year's Tchaikovsky Competition winner Daniil Trifonov performs Tchaikovsky's 1st Piano Concerto.
12:31 AM
Tchaikovsky, Pyotr Il'yich [1840-1893]
Concerto for Piano and Orchestra no. 1 (Op.23) in B flat minor
Daniil Trifonov (piano), Orchestra della Svizzera Italiana, Pietari Inkinen (conductor)
1:06 AM
Chopin, Fryderyk [1810-1849]
Waltz for piano (Op.18) in E flat major "Grande valse brillante"
Daniil Trifonov (piano)
1:11 AM
Brahms, Johannes [1833-1897]
Symphony No.4 in E minor (0p.98)
Orchestra della Svizzera Italiana, Pietari Inkinen (conductor)
1:52 AM
Mozart, Wolfgang Amadeus (1756-1791)
Quartet for Strings in D minor (K.421)
Artemis Quartet
2:24 AM
Kálmán, Emmerich Imre (1882-1953)
Aria: Wenn es Abend wird - from Gräfin Mariza
Fritz Wunderlich (tenor), West Deutsches Rundfunkorchester Köln, Franz Marszalek (conductor)
2:31 AM
Biber, Heinrich Ignaz Franz von (1644-1704)
Missa Alleluja a 36
Gradus ad Parnassum, Concerto Palatino, Choral scholars from Wiener Hofburgkapelle, Konrad Junghänel (director)
3:07 AM
Buxtehude, Dietrich (1637-1707)
Ciacona in E minor (BuxWV160)
Jacques van Oortmerssen (playing the 1734 Christian Müller organ of the Oude Walenkerk, Amsterdam)
3:13 AM
Grieg, Edvard Hagerup (1843-1907)
Sonata for violin and piano no. 1 (Op. 8) in F major
Vilda Frang Bjaerke (violin), Jens Elvekjaer (piano)
3:35 AM
Schubert, Franz (1797-1828)
Schäfers Klagelied (D.121) (Shepherd's Lament)
Christoph Prégardien (tenor), Andreas Staier (fortepiano)
3:39 AM
Mahler, Gustav [1860-1911]
Quartet movement in A minor for piano and strings
Kontraste Ensemble
3:48 AM
Dvorák, Antonín (1841-1904)
Legend No.4 in C major
Slovak Radio Symphony Orchestra, Stefan Robl (conductor)
3:54 AM
Fesch, Willem de (1687-c.1757)
Concerto for 2 flutes and orchestra in G minor (Op.5 No.2)
Musica ad Rhenum
4:04 AM
Lipinski, Karol Józef (1790-1861)
Rondo alla Polacca in E major, (Op.13)
Albrecht Breuninger (violin), Polish Radio Symphony Orchestra, Wojiech Rajski (conductor)
4:19 AM
Vilec, Michal [1902-1979]
Na rozhl'adni (z cyklu 'Letné zápisky') (On the Watchtower (from the cycle 'Summer Pictures')
Ivica Gabrisova -Encingerova (flute)
4:23 AM
Beethoven, Ludwig van (1770-1827)
Overture from Die Geschöpfe des Prometheus (Op.43)
Bergen Philharmonic Orchestra, Philippe Entremont (conductor)
4:31 AM
Abel, Carl Friedrich (1723-1787)
Symphony in E flat major (Op.10 No.3)
La Stagione Frankfurt, Michael Schneider (conductor)
4:40 AM
Dobrzynski, Ignacy Feliks (1807-1867)
Andante and Rondo alla Polacca
Henryk Blazej (flute), Polish Radio Symphony Orchestra, Ryszard Dudek (conductor)
4:52 AM
Chopin, Frédéric (1810-1849)
Nocturne in F minor (Op.55 No.1)
Shura Cherkassky (piano)
4:57 AM
de Wert, Giaches (1535-1596) [text: Torquato Tasso (1554-95)]
Qual musico gentil - from L'ottavo libro de madrigali a cinque voci (Venice 1586)
The Consort of Musicke, Anthony Rooley (director)
5:08 AM
Schubert, Franz (1797-1828)
Piano Sonata in A minor (Op.posth.164, D.537)
Christian Ihle Hadland (piano)
5:28 AM
Mendelssohn, Fanny Hensel (1805-1847)
Allegro moderato (Op.8 No.1)
Sylviane Deferne (piano)
5:33 AM
Mendelssohn-Bartholdy, Felix (1809-1847)
Double concerto in D minor for violin, piano and string orchestra
Jaroslaw Zolnierczyk (violin), Andrzej Tatarski (piano), The "Amadeus" Polish Radio Chamber Orchestra in Poznan, Agnieszka Duczmal (conductor)
6:08 AM
Fernandez, Oscar Lorenzo (1897-1948)
Second Suite Brasileira
Cristina Ortiz (piano)
6:14 AM
Jiranek, Frantisek [1698-1778]
Concerto in F major for bassoon, strings and continuo
Sergio Azzolini (bassoon), Collegium Marianum, Jana Semerádová (director)
6:24 AM
Fesch, Willem de (1687-1757)
Joseph's Aria "Tremble Shudder at the Guilt" - from the oratorio Joseph, Act 1
Claron McFadden (soprano: Joseph), Musica ad Rhenum, Jed Wentz (conductor).
Last on