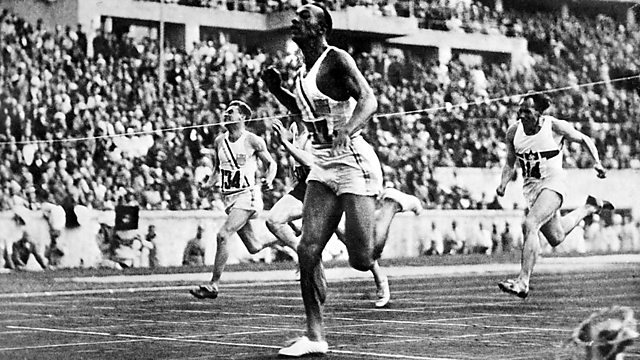 Gretel Bergmann, the high jumper dropped from Germany's 1936 Olympic team for being Jewish, tells her story in the second of a six-part series which re-visits events from history through eye-witness accounts and new songs.
Known as Margaret Lambert for the past 72 years, the 98-year-old now lives in New York, where this interview was recorded. She remembers how she was led to believe she would be part of the German high jump team, having been courted by the Nazis to prove their policies weren't anti-Semitic. But, as soon as the threat of an American boycott of the Berlin Games had been lifted, she was cast aside.
At the time she held the German record for the high jump and was disgusted to be told she wasn't good enough. But she agrees that taking part would have been difficult, had she won gold, and been forced to give the Nazi salute to a leader who had already begun exterminating Jews. 30 of her husband's immediate family later died in the gas chambers. Her story inspired songwriter Julie Matthews to write the song Nie Weder (Gretel's Song).
Two athletes who took part in the same Games - American Louis Zamperini and British high jumper Dorothy Tyler - share their memories. German historian Christiane Eisenberg describes an unforgettable opening ceremony, complete with Ode to Joy and the famous Olympic Bell, still situated at the stadium today, but with a shell hole in it. This was tolling not to call the youth of the world to compete at the Games, she says, but actually to remember the German dead at the first world war battle of Langemark, 22 years previously, in line with the Nazi ideology of blood and sacrifice. June Tabor adds a haunting vocal to Martin Simpson's song The Bell, which inspired by Christiane's descriptions.
Another Martin Simpson song tells the story of American relay runners Marty Glickman and Sam Stoller, both Jewish, who were replaced in the 4 x 100m final by Jesse Owens and Ralph Metcalfe, leading Owens to win four gold medals. With help from Glickman's daughter Nancy and Owens' daughter Marlene, the song explores whether the Americans were pressured not to embarrass Hitler by keeping Jews off the winners' podium.
The domination of the Games by Jesse Owens also inspired Newcastle songwriter Jez Lowe to write Jesse Owens' Shoes and turn his attention to some of the significant sporting efforts Owens overshadowed, such as that of the Estonian wrestler Kristjan Palusalu, whose two gold medals were to save his life during the war.
The documentary concludes with a debate about whether Berlin 1936 can be considered the "Nazi Olympics". Contributions to this debate-by-song come from Professor Dr Diethelm Blecking (Institute of Sport and Sports Science, Freiburg), Karl Lennartz (then-editor of the Journal of Olympic History), sports historian Ralf Schafer and the British historian Dr Christopher Young (Cambridge University).
Last on