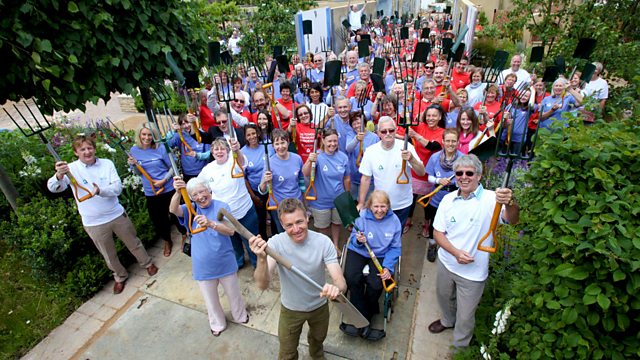 06/07/2012
Listen in pop-out player
Eric Robson and the panel invite GQT listeners to pose their gardening questions at RHS Hampton Court Palace Flower Show.
Chris Beardshaw, Bunny Guinness and Bob Flowerdew form the panel.
In addition, rising star, Jack Dunckley gives his personal take on designing for large flower shows.
Questions answered in the programme:
Why do ants farm aphids and does it harm the plant? Do ants eat strawberries?
Are 'Spanish slugs' invading or are they indigenous to the Isle of White? How do I get rid of them?
Planting suggestions for a pink and white colour schemes, with evergreens at a variety of hights, to be planted in a garden that is half in sun, half in shade? Suggestions included: Pittosporum Tobira, Deschampsia, Angelica 'Ebony', evergreen box balls, Erigeron karvinskianus, Knautia macedonica, Thistle Cirsium, Allium, Buddleia ('Pink Delight', 'Flowering Redcurrent').
Suggestions for fast growing, low maintenance, and cheap plants to cover a 6 ft orange fence? Suggestions included: rambling roses ('Seagull', 'Rambling Rector'), Ficus, Jerusalem artichoke.
Does over wintering give better results in challenging and uncertain weather conditions?
Suggestions for a climber or tallish shrub to provide all year interest for a shaded and dry porch in keeping with a country cottage look? Suggestions included: Clematis, Pileostegia Viburnoides, roses - 'Darcey Bussell', Abutilon 'Nabob'.
When lifting and storing Tree Lily bulbs should the tiers of bulbs be separated (if so, when?) or replanted as lifted?
Suggestions for plants that bankers should grow in their garden?
Produced by Howard Shannon
A Somethin' Else production for BBC Radio 4.
Last on